Extending the technology horizon through innovation, Mallcom India Ltd
We are planning to grow by building strategic partnerships in the Middle – East and APAC regions that are already in process with the further expansion of our PPE business with more strategic alliances in the international market.
Q. Mallcom India Ltd is a leading manufacturers & suppliers of Personal Protection, Safety, products, please share some of your milestones & achievements?
Mallcom India Ltd was incorporated in Kolkata, India, as a private limited legal entity in 1983.
We are the first Indian company with complete PPE range protecting industrial workers from "head to toe". The key milestones include entering the global PPE market with first export of leather gloves to Europe in 1986. In 1993, we became a government recognized export house and was further issued IPO through Calcutta and Delhi Stock Exchanges in 1994. Setting up safety shoe and NBR coated units in Export Processing Zone , launch of "Mallcom" and "Tiger" brand by setting up a unit in Uttarakhand in 2005.
In 2018, we took an initiative to support Shiva Keshavan for his 6th Olympics. Further sponsoring Manasi Joshi and Mehuli Ghosh for their quest for Tokyo Olympics.
Q. Can you brief us about overall business activities of your company (tie-ups, associations, reach, network)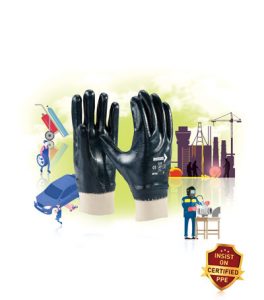 We make PPE in five categories including safety helmets, bump caps , face mask, hand protection like cotton, leather, dotted, coated and hybrid gloves and safety shoes . Our product basket consists of about 450 products and 60-65% of the products are tailor made, mostly exported.
The organization partners with the best in the business to bring the best in class products to the market. Our products are certified as per EN, BIS and NFPA Standards by leading testing agencies of the world.
Setting high benchmark for itself, Mallcom collaborates with leading brands such as Sanitized, Ultrafresh, OekoTex etc to license their product knowledge and increase the standard of product offered. Mallcom has a strong association with organizations such as CII,AEPC,CLE etc which have bolstered its growth.
Q. Can you elaborate more about the product portfolio & its applications?
Mallcom produces numerous product categories covering head to toe such as helmets, face masks, garments, rainwear, leather gloves, nitrile gloves, and shoes. We have come up with comprehensive head protection to provide dynamic head protection gear-covering the head and face. Our products meet crucial industrial applications in production of hand gear suiting the application requirement. From driving to welding to cut resistant that can tackle challenges in construction, mining, metallurgical and manufacturing industries as per EN and BIS norms. Our exclusive work wear ranges from light-weight to heavy duty industrial work wear, profile clothing, winter protection, uniforms and corporate casual wear. We also have sturdy shoes that can tackle challenges in construction, mining, metallurgical and other manufacturing industries.
Q. Which are the some of your pioneering products you introduced in the market recently or Is there any plans to launch the new products?
The COVID – 19 pandemic has created an unprecedented demand for PPE that has ramped up our production of medical textiles and facemasks to meet growing market demands and for ensuring supplies of essential PPEs to frontline healthcare professionals.
We are looking to develop new fine range of seamless high resistant liner to meet the upcoming requirement of high performance and comfort to the users during hazardous machinery works.
Q. What are your strategies to improve the Mallcom's position in Indian & global market as well?
Mallcom and its products have major certifications like CE, BIS, ANSI etc. Moreover, we are expanding our PPE segment through strategic partnerships, new product launch & development.
Over the next few months, we'll increase our social media and mobile App engagement to engage safety managers and end-users of PPE to increase social engagement in the B2B space that will be approximately 10% of our total marketing budget over the next few years.
Q. According to you what are the factors affecting to your business?
We are facing huge issues on fake products while selling online where other seller tries to sell on our listing without any authorization. But so far, each time the marketplaces have responded with common solution to this issue to place a sample order for problematic listing from unauthorized sellers, which ultimately lead to either that seller account closer or removal of few listings from their account. Also, we have noticed a number of manufacturers had been selling medical face masks and other PPE for healthcare settings with "fake" certificates.
Q. What are the key technological trends that are driving the personal protection industry?
The 2020 pandemic made us explore immense life-sustaining channels like true nature of workforce productivity i.e. remote work is doable, importance of social networking sites to increase brand awareness using digital marketing tactics, product promotion, and significance of video-conference tools for product launch, to be prepared for alternate supply chain sources in future to reduce supply chain dependency on a single region.
Q. What is your vision for Mallcom?
We are planning to grow by building strategic partnerships in the Middle – East and APAC regions that are already in process with the further expansion of our PPE business with more strategic alliances in the international market.
Product developments, portfolio expansion, distribution network expansion in the Asia – Pacific region and the Middle East are some of the strategically driven plans for the year 2021. The firm realizes the rise of digital age and would be keeping itself updated to be present across multiple social media platforms. Promotion of certified products and their acceptability against stiff competition from low priced products from the unorganized sector was one of the major challenges faced in the earlier days. Establishment of a strong dealer network across the Indian sub- continent ensuring effective last mile connect with the consumers.