Imasafe underpins our concern for women and environment
Among a plethora of silicon rubber products in the innovative Ami Polymer range, the Menstrual Cup introduced by the company is a wonder product designed for menstrual health and hygiene of women,  reveals Jigisha Gandhi, Director, Ami Polymer in an interface with Industrial Health & Safety Review.  Excerpts:
Q. Ami Polymer is a reputed name in silicon rubber products. Our readers would like to know more about your standing, product range and innovative spirit permeating all your activities.
Established in the year 1998 at Mumbai, we at Ami Polymer Pvt. Ltd., are an ISO 9001:2008, ISO 14001:2004 and OHSAS 18001:2007 certified company devoted to Manufacturing, Exporting and Supplying the finest quality range of Silicon Rubber Products, Mechanical Seals, Silicon Tubes And Hoses, Silicon Gaskets, Rubber Cords, Rubber O-Rings, etc.
Our products are widely demanded for their high strength, precise design and durable finish standard. These are manufactured in compliance with the set industry standards using quality assured rubber material, silicon material and modern techniques under the strict supervision of our experts. The products are examined against various quality parameters to deliver a flawless supply at the clients' end. Moreover, the entire product range is also available in various specifications as per the demands of our customers. We are offering all our products under the brand name Ami Polymer.
Q. Please tell us more about your manufacturing facilities and quality obsession.
We are backed by a large manufacturing unit that sprawls over a wide area of land. We are manufacturing our products under Clean Room ISO Class VII facilities. The entire unit is well-equipped with advanced machines and production equipment. Our products are manufactured under a strict quality regimen. Our experienced team of professionals manufactures these products in adherence to the set industry standards and norms. In addition, our quality experts rigorously test these products against various quality parameters by making use of modern testing tools and devices. In order to enhance our production capacity, we regularly upgrade our manufacturing unit as per the latest developments and technology.
Being a client-centric firm, we have been able to attain the maximum satisfaction of our esteemed clients.
Q. Who are your major customers and why do they come to you again and again?
We have an ever-expanding list of customers spread across the length and breadth of India. We also export our products to clients across the globe.
Our products are known for their quality and reliability. Moreover, our easy payment modes, transparent dealings, client-centric approach and reasonable price structure have placed our organization at the top of the industry. Under the leadership of our Director Alpesh Gandhi, we have been able to meet the bulk and urgent requirements of our valuable clients in the best possible way. The combined effect of all this is that we are able to delight our customers from far and near.
Q. Could you tell us all about your revolutionary product – Imasafe Reusable Menstrual Cup introduced recently and its market acceptance?
You said it. Imasafe is indeed a revolutionary product. It replaces sanitary napkins. As a menstrual cup user, you are not only opting for comfort but also choosing an eco-friendly period care. Menstrual cups give you a great freedom and flexibility, especially during your sports and fitness activities.
After using a menstrual cup I found that my whole life turned out to be stress-free and comfortable. I said goodbye to lousy sanitary napkins forever.
The silicone-based funnel shaped cup with a stem at the end is easy to use. It takes hardly three minutes to wear it, whereas changing a pad is cumbersome and takes about 10 minutes to wear! The menstrual cup is highly hygienic. It's easier to just pour the collected blood into the toilet pot, gentle wash it with water and push it back in again and you're good to go for no less than 12hours. Even the best of sanitary pads never gave me that much comfort.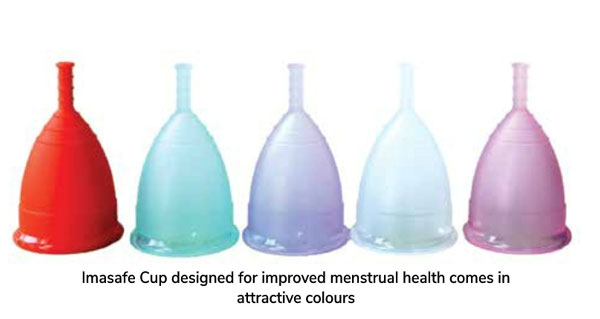 Q. How do the benefits of this product outweigh those of similar products?
Why I took this step of going the unconventional way was the concern about my own health and the bigger picture – the environment. The toxic chemicals they use in manufacturing pads like dioxins, synthetic fiber and petrochemical additives makes the pad block the air flow, lock in heat and wetness and produces yeast and bacteria! This can cause ovarian cancer and heart diseases.
Coming on the environmental aspect, pads are the worst and most impactful as they have plastic used in making. And we all know that it takes gazillion years to decompose plastic. However, tampons are slightly better since it's mostly cotton. But the cotton fiber used in the production of tampons contributes to 80% of their total impact. One tampon takes about six months to decompose and considering that a study revealed that a woman uses anywhere between 8,000 to 17,000 tampons in her lifetime and depending on her cycle, it will take a long, long time to decompose.
On the other hand, Imasafe Menstrual Cup can be sterilized; one just needs to keep it in boiling water for five minutes to free it off any bacteria. We claim that one cup can be used for as long as 5 years which means that no throwing of waste every month and no feeling guilty about destroying your own body and the environment.
While the first world countries are benefiting from Menstrual cups since 1987 when it came the first time around there, India is still kind of getting the hang of it. Reasons can be cultural stigma surrounding menstruation, fear of trying something revolutionary for periods, so on and so forth. However, now that I have listed down so many advantages of it, all Indian women and girls must give it a try.
Lastly, the cup from Ami Polymer I use – ImasafeTMReusable Menstrual Cup saves you from period hassles, rashes, skin infection, leakages and allows physical activity and can last for years together. This translates into improved menstrual health and lowers waste creation. The Unique thing about the cup is that it is produced in a clean room of class 10000 Facility and manufactured with international certified compliance.
Q. How do you envision the future of Ami Polymer in a firmament which is crowded and competitive?
We are known for our quality products and innovative, ground-breaking solutions. For a trail-blazer like Ami Polymer the future is always bright.