Providing Improved Parking Experience via Automation & Digitization
Neptune Automatic Pvt. Ltd ( Formerly known as FAAC India Pvt. Ltd ) , the company offers innovative parking solutions and has established itself as a leading provider in this field, offering people a satisfying and hassle-free parking experience. India's first Smart City Parking & Security Management Project has been successfully implemented for NDMC in heart of Delhi i.e. Connaught Place in 2018. This project is covering 87 Plus parkings in and around Connaught Place. All parking are secured with around 300 Plus CCTV & PTZ cameras.
The motorist are guided through Electronic Variable Display Boards of different sizes installed at various locations in & around parking lots. All gated parking are equipped with Automatic Ticket Dispenser, Automatic Number Plate Readers and Boom Barriers . Rest, On Road Parkings are covered with Electronic Hand Held Ticketing Devices. All car parking spaces covered with either Under Ground Magnetic with IR Sensors or ultra sonic sensors. Besides electronic payment at each Point of sales locations, 8 nos of Automatic Payment Collection Machines are installed at strategic locations for convenience of the users. Mobile APP is available free of cost to users for checking availability of parking spaces at various parking, to navigate to nearest parking location, information of wrongly parked & towed vehicle as well as for advance booking of Parking Spaces.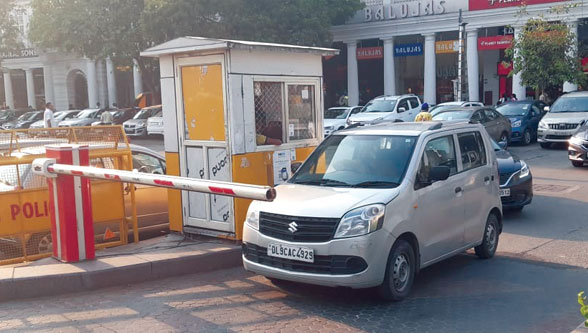 Traffic and availability of a parking space are two things that stress out Indian commuters the most. With number of automobiles increasing at an alarming rate, governments, businesses and municipal corporations across the nation are aggressively looking for solutions to reduce road congestion, improve parking management and optimize available space.
That is where, a good Parking Management System (PMS) comes into picture. With features like traffic monitoring, centralized control system, real-time parking availability, pre-booking & online payments, parking guidance & navigation, mobile app integration, led indicators, in-ground detection sensors, access control, automatic boom barriers etc., advanced parking management solutions are now being deployed all over India- from shopping malls and places of interest to Railway Stations and Airports.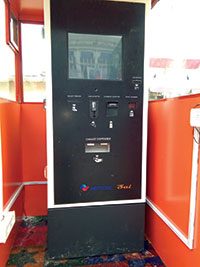 Neptune Smart PMS has it all. It allows users to book a parking space and pay for it online via a companion APP. It also guides them (via maps and navigation) to the desired parking lot. With use of LED indicators, commuters are informed about a parking space (whether it is occupied, reserved or available). In-ground detection sensors calculate the real-time availability which is displayed on signages outside the parking lots and on mobile app, allowing vehicle users to make parking decision. And that's not all! If you forgot where you parked your car, this brilliant system will help you to reach the parking location.
The automatic parking management system has therefore made parking a seamless, pleasant and a user-friendly experience for both people and the authorities. Whether it is about pre-booking your parking space or finding the location of your parked vehicle, everything is now just a click away- thanks to Neptune PMS!
Neptune Automatic Business Unit of Neptune India Ltd., is offering complete solutions in Vehicular & Pedestrian Access in Collaboration & Partnership with renowned European Companies.