Matrix Comsec wins Quality Council of India's D.L. Shah Silver Award
Matrix Comsec, a leading manufacturer and provider of Security and Telecom solutions, has won the the prestigious QCI-DL Shah Quality Award at the 3rd Virtual Quality Conclave, held on 17th December 2020, New Delhi. QCI has been presenting the award since 2007 with a view to promoting awareness of quality initiatives and recognizing best practices. It recognizes successful projects that have resulted in tangible improvements.
The award process included initial scrutiny by the award jury followed by presentation in front of the jury by the project team and onsite assessment of the project. The onsite assessment was done by VN Choudhary on February 18, 2020.
Commending the award, Ganesh Jivani, Chief Executive of Matrix said, "We are happy to win the prestigious QCI- DL Shah Quality Award. We thank the jury for recognizing Matrix for our technologies, engineering and manufacturing. Matrix offers cutting-edge physical Security and Telecom solutions in more than 50 countries including many first-world technologically advanced nations. With 250+ R&D engineers and world-class processes and infrastructure, Matrix is committed to designing cutting-edge high-performance products. This accreditation is a validation of Matrix's innovation and design capabilities and will go a long way in motivating us towards building world-class solutions."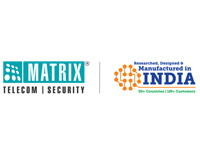 For more information
Website:www.MatrixComSec.com