Pledge for Safety on National Safety Day
National Safety Day Is Celebrated Every Year On 4th March
National Safety Day was first observed on the foundation day of the National Safety Council in 1972. The day was set up by the Ministry of Labour and Employment on March 4, 1965, to develop and bring into practice a voluntary routine on safety, health, and environment. GUJARAT is a leading industrial state and thus we have a extra risk of hazards making us more vulnerable .lets us all commit today to walk the road of safety .safety at work and safety at home.we can identify risks and hazards everywjere around us and in our home , on the road and at work..identifying the risk to ourselves and our fellow colluges is the first step and then mitigating it with protective solutions is the solution.
Q. How do you see the Fire and Safety Industry market growth in the Current Scenario?
As with many other countries, the fire safety market in India has always grown at a steady but slow pace. According to 6W Research, the fire safety systems and equipment market in the country is expected to grow at a rate of 9 percent in the five years ending 2023.
In fact Sure Safety is growing at an average 40% CAGR year on year and I am sure we will ensure this trend continues far beyond 2023,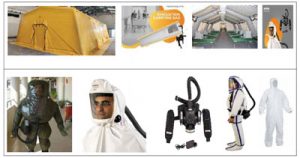 Q. Lot is being heard regarding Fire NOC, what is Sure Safety's take on it?
It's the need of the hour, the government in wake of accidents in School Buildings, Coaching classes and hospitals specially during Covid times has now made it mandatory for all High Rise Buildings to obtain FIRE NOC from respective authorities to ensure that the High rise establishments are secure and in any emergent situations Fire can be controlled before it goes out of hand.
We, at Sure Safety are totally geared up and have a team of Trained and Skilled engineers who can do a detailed study of the High Rise and suggest remedial steps to ensure safety, evacuation and rescue to meet any eventuality. In fact we take Turnkey jobs where in we not only provide reports but also equip the Buildings with required measures such as Fire Suppression systems, Fire Extinguishers, water Sprinklers along with complete water pipeline lay outs for complete protection of the inhabitants.
Q. While Fire is being taken care of what are the new paths the Industry is embarking upon for its Safety and what has been your contribution in sustaining this?
The Industry as always is looking to more protective measures to ensure the safety of its work force and avoid loss time accidents using newer technologies. Innovative products and solutions are being sought as largely due to Lock downs during Covid the economy has taken a hit and everyone wants to come out of it and make up for the loses.
At Sure Safety because of our reach and regular interaction in the market with our Field staff and network of Dealers / Distributors we keep our eyes and ears open to proactively understand as to what the customer is looking for? We then undertake studies on regular basis and strive to bring in new technologies to upgrade the prevalent ones.
The resultant has been phenomenal like our High Rise Escape Systems for Escape from High Rise Buildings is most safe and economical and can be easily installed where required. What's more is it can be kept mobile and in times can be shifted from one side of the building to another or more safer escape route.
Another of our interesting product is the Co2 Flooding system especially for Electrical Panels and Panel rooms as a whole where in once installed you are sure of your work place safety since it works on auto mode no matter how large the fire would be.
Coupled with our Hitech Fall Protection systems where we have created our own niche and our systems can be found on Rail / Road gantries, Airports, High Rise Industries ensuring Zero fatalities even at heighted structures.
We are geared to take our country to more innovative products and technologies we have moved out of conventional products and offer more reliable solutions to the industry which are well accepted.
Q. How does Sure Safety ensure meeting the challenges posed by the Industry especially in the wake of Covid 19 obstructions?
We have a most modern DSIR accredited Research Lab at Baroda where day in and day out a team is working on lot of innovations are going on to meet these growing demands of not only Industry but even Aerospace and Defence segments.
Coming to Covid while whole world was under Lock down we, at Sure Safety geared up to meet the need of the hour and were manufacturing all kinds of PPEs to assist the Government both State and Central ensure protection of the stakeholders.
In fact it was a boon in disguise for our Research and Development department which started churning out new products most economically to meet the Government's demand and being ably supported by our Production team we could meet challenges head on and produced large quantities of excellent PPEs some of which also got immediate BIS certifications to meet requirement.
Products like Coveralls, Aprons, Goggles, Face shields and Masks etc. were manufactured instantly. Till date we have supplied more than one million kits across the country and even now the production is geared up to meet requirements which keep on trickling in.
What was required was more solutions besides the PPEs so we again pulled our socks and came out with more solutions in terms of Body Bags for the deceased, Evacuation bags for mobilising of affected persons who were in need of Medical care and had to be moved to intensive care facilities without affecting others.
Decontamination Chambers and Tunnels were supplied to the government for effective handling of C19 patients or staff on Duty.
Innovative products like Powered Air Suits and hoods with Filter cartridges could help the Medical professionals perform major surgeries without getting contaminated and helping overcome medical emergencies. All this happened very fast as it was the need of the hour and I marshalled my team accordingly to face up the challenges which is a big satisfaction both for me and my team.
When shortages of Hospitals were felt Sure Safety Created Quick Set up Hospitals which could be easily mobilised being Inflatable but what is important here is that these hospitals are self-sustainable with toilets, Change rooms, Air Circulation and Sterilising systems so that the exhaled air does not contaminate the environment.
Not to leave any stone unturned we ventured into Oxygen Plants and aligning with likeminded people we have now Full- Fledged facility for manufacturing of Oxygen plants to meet any eventualities of the nation.
Q. Last question where do you think the Industry will end up after COVID effect?
I am positive that the Industry will live up to its reputation and Fight back to come back on track very fast as no one can afford losing out with so many mouths to feed and knowing that only those who fight it out will survive.
It is said when 'Going gets Tough, Tough gets going' and that is both what we are and what the industry is all about.