In today's world surveillance has become an integral part of our lives. For example, in Hartford, Connecticut, live surveillance cameras blanket the city, and ShotSpotter gunshot technology checks for gunfire, giving police a 24/7 visual of what's happening on city blocks and streets. Data analysts within the police department monitor and review this surveillance activity from the Hartford Real-Time Crime and Data Intelligence Centre where 30, 55-inch, 4K video monitors provide the analysts with real-time views of the action and together with data feeds from the ShotSpotter system, the dispatch system and social media mining tools. Analysts use the data to help officers with crimes in progress and analyse the recordings later as police investigate crimes.
I wrote about this instance as it provides a very sophisticated view of what is possible when an open source, Windows-based video management system (VMS) is made functional. Despite the fact that not all such applications are so advanced, VMS for CCTV is changing the way surveillance footage is collected and utilised in security applications. However, to fully benefit from VMS, it's essential that users comprehend what it is and what it's not, how it works, and where it works best.
What is VMS for CCTV?
Technically, VMS for CCTV allows users to record and view live video from multiple surveillance cameras. The video footage can be either an appliance- or Windows-based, depending on the manufacturer, and used with either IP cameras or analogue cameras with an encoder. An appliance-based VMS usually utilises a variant of a Linux operating system to operate. However, latest appliances, which are generally embedded, require a network drop and a web browser that communicate directly with the Linux-based software running on the appliance. A VMS running on a Windows-based server, on the other hand, functions like other Microsoft-based tools. The Microsoft Windows server operates the host application and communicates with either proprietary software or web-based client software over a client network.
Whether appliance or server based, both VMS types typically operate on a Windows-based platform. Ninety per cent of the VMS on the market today operate on Windows," says the senior field solution architect of video surveillance for CDW, a security integrator in the public safety space. "There are a handful of players that are Linux based, but even then, it's still software running on an operating system. The appliance is just the specified server."
The primary difference between the two is that an appliance-based system, even one with software on it, is essentially a system used to record and later review video. Such a system lacks advanced features, and will not integrate with other systems in play, such as a video analytics or access control systems. A server-based VMS, however, acts as a building block for a physical security camera system that can have video, access control, analytics, motion detection, trigger alarms and more built in.
Pros and Cons of VMS Types
Both applications have pros and cons. For example, a VMS for CCTV, which is appliance-based, is very stable and requires little user intervention to maintain. Hence, a gadget-based system might work well in a client environment where few IT resources are required to maintain the VMS. On the other hand, the gains of a reduced set up, installation complexity and maintenance needs also come with a disadvantage—appliances are generally proprietary and purpose built, rendering them less flexible, with fewer opportunities for customisation, and making it complicated to integrate with third-party systems.
If someone is just looking for the capacity to record with a few cameras and review the footage at a later date, she or he should not intend to do any monitoring live or integrate with another device, then a basic video recorder and cameras should work fine.
While in contrast, Windows-based servers require routine maintenance and management. Primarily, for this reason, these gadgets tend to work best in scenarios where in-house IT resources are available to make sure the servers always operate properly.
At the end of the day, these systems are more expandable and flexible than traditional appliance-based systems. Workers can control the VMS from any point on the network, and the software makes it possible for them to perform live monitoring as well as review captured footage later for investigative and forensic purposes.
A survey conducted, by Ava Security, covering several organisations in multiple countries running video monitoring systems, found that US firms are keenly repurposing their existing video monitoring systems to help the 'COVID Safe' normalisation in offices and workplaces across North America.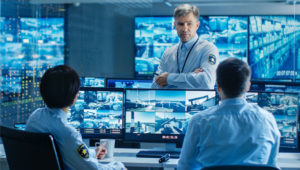 Around half (50 per cent) of the 100 IT, Facilities Management (FM), Operations or Security managers interviewed during March 2021 were already using their video monitoring systems to help manage social distancing requirements in their buildings. Another 44 per cent were planning to use their video systems for this purpose within the next one year.
An even higher percentage (59 per cent) were already using their existing video systems to help provide temperature level checks and a further 32 per cent were planning to enable temperature checking via their video security systems within a year.
Half (50 per cent) of respondents in the survey said they were already using their video monitoring system to trace all personnel movements in, out and around their workplaces to protect both staff and visitors alike from the infection. A further 40 per cent planned to configure their systems to do this within the next one year.
A little more than half (52 per cent) had already deployed their video systems for monitoring meeting room occupancy and people density levels in breakout areas; while 41 per cent said they were likely to add this technology to their video systems over the next 12 months.
Over half (53 per cent) of US organisations had already deployed facial recognition analytics into entrance area cameras to enable contactless access control; while a further 32 per cent were chalking up plans to finalise this work within the next one year as more staff are expected to return to the office.
Moreover, mask detection analytics is also being extensively deployed in US workplaces: 45 per cent had already deployed video analytics software now available for alerting control room staff when staff members and visitors are inside a building but without a mask. Another 45 per cent of the respondents planned to deploy mask detection analytics within the next year.
Article by Arijit Nag
Arijit Nag is a freelance journalist who writes on various aspects of the economy and current affairs.
Read more article of Arijit Nag