Dräger X-am 8000 is a newly designed multi-gas detector which can detect upto 7 gases at the same. The detector comes with an inbuilt internal pump and it is especially suited for Confined Space Entry and Leak Search applications in a variety of industries. Dräger X-am 8000 fulfils most important international and local approvals for the detector.
Key Innovations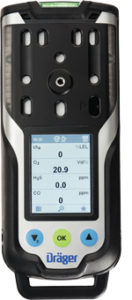 All in one powerful solution. The gas detector is the carrier for 4 different sensor technologies (Catalytic Ex-Sensors, Infrared Sensors, Electrochemical Sensors and Photoionization detectors).
Advanced sensor combinations are possible e.g. CatEx/PID or IR/PID and CatEx/IR
Inductive charging of a Li-Ion battery increases the robustness. Contactless charging ensures no corrosion issue on charging pins.
Zone 0, T4 approval for all variations of the product: Unconditionally Zone 0
Variety of sensors: 150 gases can be measured using different sensor combinations
Powerful pump that can draw a sample from as long as 45m
Selective measurement of benzene possible
Intuitive color display and assistant wizards for confined space entry and leak search.