FIRE FIGHTING CONDENSED AEROSOL GENERATING SYSTEM
After Halon extinguishers were phased out in the 1980s,Condensed Aerosol Generating Fire Suppression technology, which had originally been developed as a Halon substitute, has received a lot of attention. Condensed Aerosol Fire extinguishing agents, unlike traditional inert gas, foam, water mist, and Halon fire suppression agents, do not need to be driven out by pressurised gases and can extinguish class A, B, C, D, E, and F fires at 30 to 120 g/m3, which is significantly less than that of conventional extinguishing agents like CO2, FM200, Inergen, NOVEC 1230, etc…
HISTORY
Engineered almost 30 years ago in the Soviet Union as a byproduct of research on Russia's solid fuel rocket engines. Unlike most extinguishers, which focus on one of the three elements required for fire, namely heat, fuel, and oxygen, the Russian-developed technology focuses on interrupting the chemical process of fire. Condensed Aerosol has been created to replace Halon. Condensed aerosols are uniquely safe and effective as fire extinguishing agents when the entire system is designed in accordance with regulations.
After the dissolution of the Soviet Union, the technology's owners issued licences to interested parties to develop and distribute the items. They also provided licensees with the option of continuing to obtain the potassium-based substance from other sources within Russia.
Several firms from across the world secured licences and began marketing Russian-sourced condensed Aerosol compounds with little refining or with local body structure and activation mechanisms. Because of the presence of Nitrocellulose and Chlorine traces, which are usually referred to as Generation 1, the condensed aerosol compound was confined to specialised applications.
RE-ENGINEERED
Condensed Aerosol Generating Fire Suppression technology has progressed from a Generation I oil tank suppression system to a Generation II Non toxic & Non Corrosive based system for a wide range of applications such as Communication Base Station, Electric Power Industry, Petroleum Industry, Spacecraft Cargo Room, Weapons Warehouse, Mobiles Engine Room or oil tank, Metallurgy Industry, and many more…
For Industrial & Defence applications, the design of the Condensed Aerosol Generating Fire Suppression Canister has been further refined to achieve >85% discharge efficiency and less weight, i.e. "Low Gross Weight to Active Compound Weight Ratio Not Exceeding 4:1" This makes the Condensed Aerosol Generating Fire Suppression Canister lightweight and can be wall or ceiling mounted without danger of falling under strong vibration or navigation.
Initial patent was granted to the Soviet Union (Russia) in the early 1990s.
Condensed Aerosol Fire Extinguishing Technology of Generation II is more cleaner, noncorrosive, and has a high discharge efficiency of >85%. When compared to Generation I potassium salt-based Condensed Aerosol fire extinguishing technology, the Condensed Aerosol Generating Fire Suppression system greatly solves the corrosion of electrical equipment and electronics.
As substitutes for Halon agents, the ODP and GWP values of Condensed Aerosol Generating Canister are nearly zero. Despite the fact that Generation II has been evaluated and is being promoted as non-toxic, it does not reduce oxygen in an inhabited environment it is highly recommended to have an evacuation alarm with prerelease time prior to discharge of Condensed Aerosol . Avoid prolonged contact with any fine aerosol. Many nations across the world are attempting to develop indigenous compounds in order to capitalise on the commercial opportunities. In the near future, a comparable compound will be developed under the Make in Bharat banner.
CONSTRUCTION & DISCHARGE MECHANISIM
The Condensed Aerosol Generating Fire Suppression Canister is made up of an Generation II solid compound made of potassium nitrate, an organic resin, and dicyandiamide in a rigid steel casing that aerosolizes finely divided solid particles typically based on alkali metal salts and gases typically composed of nitrogen, carbon dioxide, and a minor amount of water vapour.
It is self-generated by a thermal process of a solid aerosol-forming chemical housed in a non-pressurized canister with a robust steel casing in an IS 5 Red Colour canister. RAL 3000 is the industry standard. Fire Suppression Using Condensed Aerosol The aerosol-forming component is activated by an actuation mechanism in the canister. The insulating substance, which is mostly made of gypsum, cools the aerosol sufficiently before it is discharged into the enclosure.
PRINCIPAL OF EXTINGUISHING
"Fire propagation" radicals (OH, H, and O) are essential elements in fire propagation. Condensed Aerosol Generating Fire Suppression Agents suppress the fire (mainly) by interfering chemically with these free radicals within the fire zone, so disrupting the ongoing fire reaction.
The Condensed Aerosol Generating Fire Suppression agent is released as micro solid particles, mostly composed of potassium radicals. The Condensed Aerosol Generating Fire Suppression interacts with the fire radicals formed during combustion (hydrogen, oxygen, and hydroxyls) and extinguishes the fire when injected into the blazing zone of a fire. Because tiny aerosol particles have a wide surface area for trapping radicals, they are excellent extinguishing agents. Coolants in Condensed Aerosol Fire Suppression systems are studied for the first time, as they are responsible for lowering Condensed Aerosol temperature to reduce secondary fire danger. Cooling effects are typically obtained by coolant vaporisation and endothermic chemical breakdown.
AVAILABLE INTERNATIONAL STANDARD…
ISO 15779
EN 15276-1
BRL K23001
NFPA 2010
UL 2775
GOST R53284
EXTINGUISHING CONCENTRATION
The applicable standards of ISO 15779, EN 15276-1, BRL-K23001, NFPA2010, UL2775, as well as the manufacturer's design and test data, and the authority having jurisdiction, should be used to design the system.
The following extinguishing concentration was derived in accordance with International Standards using test data from several Condensed Aerosol producers.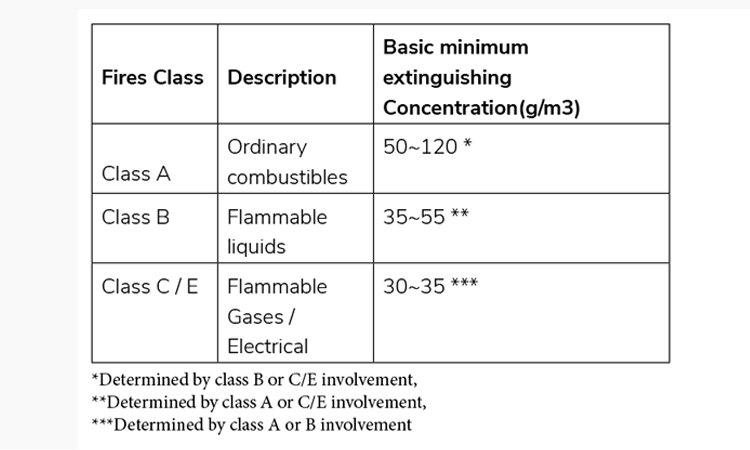 The above concentrations excludes discharge efficiency refer Table "Efficiency of generators type" from the notified bodies detailed test report (Request Manufacturer for the test report) confirming to ISO 15779, EN 15276-1, BRL-K23001, NFPA2010, UL2775 to find the discharge efficiency, also excludes all safety factor.
In addition to Minimum Safety Factor 1.3 additional K1, K2, K3 & K4 needs to be considered for more details & Free Of Cost Engineering mail to info@jimreeves.in .
Design Concentration (Kg)) = (V*C*SF*K1*K2*K3*K4)
1000
V = Volume (M3), C = Min. Concentration (gm/M3), SF= Minimum Safety Factor (1.3), K1= Coefficient Non-Uniformity Aerosol Distribution, K2 = Coefficient Leakage Factor, K3 = Coefficient for Cable Tunnels, K4 = Coefficient for Altitude or Temp.
ADVANTAGE OF CONDENSED AEROSOL GENERATING FIRE SUPPRESSION SYSTEM
Non Toxic
Fit & Forget
Non Conductive
No Water damage
No Pressure built-up
No Oxygen depletion
Zero Pressure storage
Fail Safe & Highly reliable
No high pressure Cylinder
No Pipe work & Manifolds
Wall/Ceiling Mounted
Large sizes & capacity
Suitable fire class A, B, C, E, F
No Re-ignition
Non CorrosiveZero Ozone depletion
Zero Global Warming
Environment-friendly
Prevent Flash-over
Prevent Back-draft
Easy to find fire source
15 Yrs Shelf life
Fixed / Portable Options
Self activation >3000 C
Can replace existing System
VARIANTS
FIXED AUTOMATIC SYSTEM
MANUAL FLOODING TOOL
STANDALONE
APPLICATIONS
Battery Energy Storage – Generator Rooms
Gas Turbine Enclosures –  Switchgear Rooms
Engine Compartments – Duct Protection Machinery and Engine Room Transformer Rooms
Flammable Liquid Storage – Dust Collections
Firefighter First Responder – Wind Turbines
High Rise Building -Server Room/ Data Centre
Etc…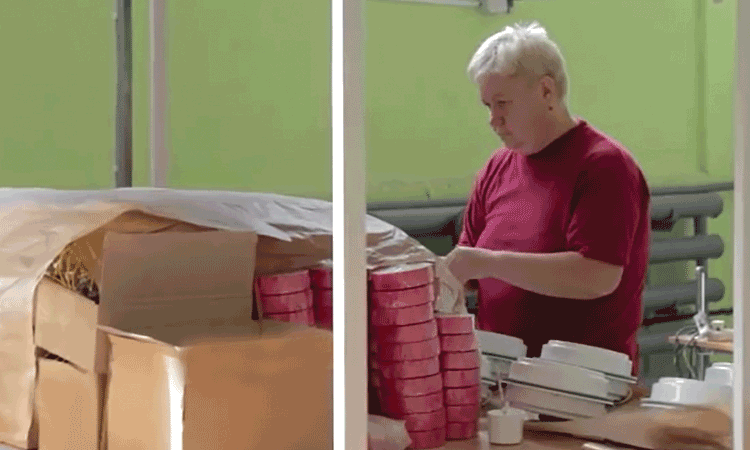 SELECT THE RIGHT CONDENSED AEROSOL GENERATOR
There are several Condensed Aerosol Generating Fire Suppression products on the market; customers should consider the following critical factors before purchasing the product.
Check the kind of aerosol compound type (1st / 2nd Generation). Condensed Aerosol extinguishing compound should be free of chlorine, nitrocellulose, and pyrotechnics.
Check the Active Compound Extinguishing Concentration (Check the pre-burn time, soak time, and aerosol density depending on the fire class specified in the Notified Body Test Report).
Check the product's discharge efficiency, which may be confirmed using the table "Efficiency of the generator types" from the notified body test report.
For Aerosol Compound Acute Oral, Acute Inhalation, Acute Dermal Toxicity, and Acute Ocular (Eye) Toxicity, look for a Non Toxic Certificate from an International Testing Lab or a NABL Accredited Lab.
According to ISO 15779, the canister shall have a hold time (Re-Ignition Prevention) of more than 25mts, and the relevant notified body report should be confirmed.
Check the gross weight of the canister, which should be lighter in weight, with a maximum active compound weight to gross weight ratio of 1:4 being optimum.
Check the shelf life, which should not be less than 15 years, and verify the appropriate notified body test result.
Best condensed Aerosol has a wide working temperature range of -50 degrees Celsius to +75 degrees Celsius.
The system must be effective against all fundamental fire classes (A,B,C, and E).
"Technological pursuit for the service of the nation"
For more information
Email: info@jimreeves.in