Human Temperature Detection Solution
Amid the outbreak of Covid-19, we have developed "Human Temperature Detection Solution" for pro active detection of high temperatures which could help Indian Health bodies to keep track of people with high temperature during this outbreak and take necessary actions in order to control the outbreak. 
Sparsh has launched at record timeframe the following Human Body Temperature Detection Solutions for early detection and screening for controlling Covid-19 Spread.
The solutions are capable of detecting and alerting temperatures above threshold levels by screening humans from distance of 1 foot to 10m which helps preventing human to human proximity and thus spreading of Covid-19.
This solution helps avoid human to human contact, rather a person can be sitting anywhere far and monitor the solution. This will help screening a larger population in public areas like Airports, Railways Stations, Metros, Hospitals, Bus Stations, Govt. Buildings, etc which becomes almost impossible if given a chance to be done by person(s).  
Look & Go Solution
Ideal to conduct screening safely and efficiently of those who may potentially be infected with flu. Body temperature of those infected is expected to be around 38~39°C while adult human normal temperature should be around 36°C. This camera can visualize such temperature difference instantly from safe distance for you to segregate those who may have been infected.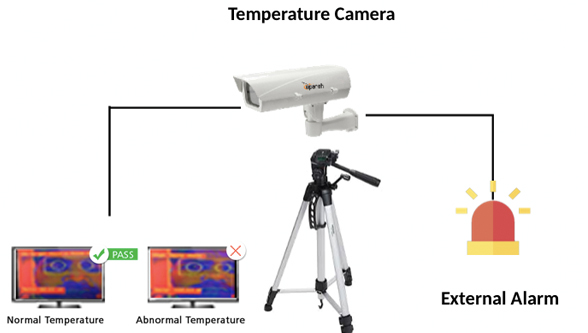 How it Works
 Human Temperature Detecton Solution uses face detection technology and the infrared energy that a body emits, which is invisible to the human eye. The system constructs a heat map and calculates the temperature.
One has to face the camera and stand still, allowing a clear view of the corners of the eyes — the tear ducts — where the skin temperature comes closest to that of the body's core. 
When the system detects someone with temperature above threshold, an alarm will be genrated and face of the person will be stored along withtemperature readings in the records.
This helps automate the screening process, this helping in protection of human to human trasfer of virus.
This is an Eye Tears Duct Pore temperature screening solution which is far more accurate than thermal cameras which are basically used for only body temprature measurement. 
Only this solution gives accurate reading and rest and approximations thus not very useful. 
Some of the World facts amid this outbreak:
Italy's entire population under quarantine measures.
China's Q1 growth seen at 4.5% – lowest since financial crisis -Reuters poll.
Airlines expect a $113 billion drop in revenue this year.
This pandemic in a way also brings an opportunity for India because it accelerates the de-risking of supply chains which originates from China. This opportunity exists only if we can control the outspread of this virus in India.
About SPARSH
Samriddhi Automations. Pvt. Ltd. established in 2006, is a pioneer and leader in manufacturing Electronic Video Surveillance equipment in India with product presence and in more than 250 cities in India. Its brand SPARSH has revolutionized the security market by being India's first company to manufacture CCTV cameras in the country in the year 2008. At our state-of-the-art manufacturing unit at SIDCUL Industrial Area, Haridwar, our focus on indigenous design, development and manufacturing of technologically advanced Surveillance Equipment & Devices has put India on the international map.