Matrix Announces Participation in the IFSEC India 2021
Pragati Maidan, New Delhi from 9th to 11th December 2021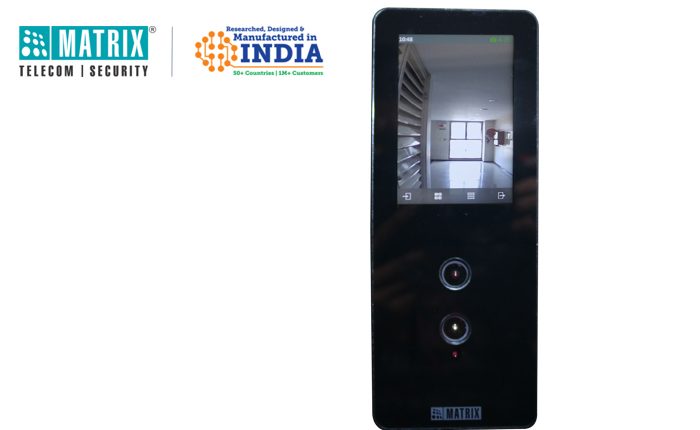 Matrix is gearing up for participation in IFSEC India 2021 to be held at Pragati Maidan, New Delhi from 9th to 11th  December 2021. We will be showcasing our extensive range of People Mobility Management and Video Surveillance solutions.
Matrix is well-known for its indigenous and innovative range of solutions for IP Video Surveillance, Access Control and Time-Attendance Solutions. Each of our solutions is specifically designed for organizations of all sectors and strengths. Matrix puts in constant efforts in upgrading the technology by designing and manufacturing solutions that are bound to meet futuristic requirements. We at IFSEC will be presenting some of our indigenously engineered Security and Telecom solutions at the event.
Event Highlight
At IFSEC, we proudly present our product, Matrix COSEC ARGO FACE. A culmination of modern technology that supports multiple contactless credentials such as the face, smart cards, PIN, mobile phone using BLE. Matrix COSEC ARGO FACE speaks of security through and through with its high-end performance and world-class design. Unlike other devices, Matrix COSEC ARGO FACE boasts superior connectivity such as Bluetooth, Wi-Fi, PoE, and USB, top-class certifications such as IP65 and IK08, making it a technical marvel, fit for all the challenging and outdoor applications.
On the other hand, with the Government reimplementing biometric authentication from 8th November, Matrix plans to showcase COSEC VEGA FAXQ – a certified Time-Attendance product for Government usage. With its Aadhaar Enabled Time-Attendance capabilities, it is an exclusive product that caters to all the Government essentials. This marvellous device is convenient, reliable, quick, and connects to AEBAS servers via multiple connectivity options.
In this event, Matrix will also be highlighting its one of the kind product, Cloud-Based Management Solution – COSEC VYOM. This solution uses cloud technology to utilize application, hardware and infrastructure as a service to give the best Time-Attendance, Access Control, and their dependent solutions. It helps organizations solve their worries about productivity, security, and efficiency while providing the best cost-effective, secure and on-demand network access with minimal hardware demands.
On the IP Surveillance front, we aim to demonstrate our product range from the SATATYA family of security solutions that involve the 8MP Cameras, SATATYA Network Video Recorders and Video Surveillance Solutions. To begin with, the 8MP Cameras are designed to meet the diverse requirements of large organizations and demanding project applications. Powered by smart processors with Deep Learning Algorithms, these IP cameras are an example of superior image quality and performance. To emphasize the image quality, the cameras are equipped with SONY STARVIS back-illuminated sensors which give exceptional image quality even in varying light conditions. Besides this, the 4K cameras are equipped with intelligent video and audio analytics like motion detection, intrusion detection, tripwire, gunshot detection, scream detection and much more.
Apart from this, we aim to showcase our upcoming range of Enterprise Network Video Recorders – a turnkey Video Management Software solution designed for demanding applications. Designed with cutting-edge hardware technology and redundant server features, it is an ideal solution for enterprises looking for a complete solution. Not to miss, the device has a 1Gbps throughput capacity with 4K Decoding. It is equipped with smart features like perceptive monitoring and smart investigation that lead to proactive security. All in all, these flexible and reliable enterprise NVRs are ideal for modern organizations looking for proficient, persistent, and preventive security.
Besides this, we would be also showcasing our range of IP Cameras and Video Management Systems that provide centralized security for modern enterprises. Matrix IP Cameras back-illuminated CMOS sensor technology results in exceptionally clear images even in light as low as 0.01 Lux. Apart from this, the cameras are designed with cutting-edge technology and a sturdy build. Adhering to competitive Ingress Protection standards, the cameras can perform even in harsh weather conditions. Lastly, in compliance with the high-end impact protection standard, the cameras can withstand impact upto 20 joules.
"IFSEC is South Asia's largest security, civil protection and fire safety show, which in turn provides us with a platform to expand our ties with industry experts and system integrators. The event also serves as a great stage for highlighting our well-engineered solutions. We aim to use this opportunity to expand our network and spread the word about our technologically advanced Security Solutions", Kaushal Kadakia, Marketing Manager Matrix Comsec.
Talk to our solution experts, and learn more about our innovative solutions by visiting Matrix at Booth No- C39, Pragati Maidan New Delhi from 9th to 11th December 2021.
For further information, Visit our Website