Q. Matrix has gained credible market share among security and communications products; please share some of your milestones & achievements?
I consider following as our major achievements.
Winning trust of 1 million+ customers in India and world over in diverse sectors like manufacturing, retail, services, BFSI, hospitality, health, education, defense, ports, government and many others.
Designing 60+ world-class products meeting demanding customer needs.
Creating a network of 2,500 system integrators promoting Matrix products the world over.
Matrix products are sold in more than 50 countries including USA, Canada, Germany, Italy, Portugal, Spain, Australia, Thailand, Vietnam, Philippines, UAE, Saudi Arabia, South Africa and many others.
Matrix products have won international awards for design and aesthetics such as iF Germany, Red Dot Singapore, GOOD Design Japan and India Design Mark.
Matrix products meet domestic and international standards such as BIS, STQC, TEC, CE, FCC, RoHS and others.
Overall, proving it is possible to design, manufacture and market world-class technology products from India.
Q. Could you brief us about overall business activities of Matrix (tie-ups, associations, reach, network)?
Matrix is indigenous for all its core business activities like R&D, Manufacturing, Marketing-Sales and Technical Support. Almost all Matrix products are indigenously designed by our R&D engineers. We market our products under MATRIX brand name through 2,500+ channel partners across India and overseas. We work hand-in-hand with our channel partners and system integrators during pre-sales, sales, installation and after-sales.
Q. Can you elaborate more about the product portfolio & its applications?
Matrix offers a comprehensive range of solutions for IP Video Surveillance, Access Control, Time-Attendance and Telecom applications. All these solutions are specifically designed for large and multi-location enterprises, SME and SMB organizations.
Matrix SATATYA is an IP Video Surveillance solutions portfolio which includes Network Video Recorders (NVRs), IP Cameras and Centralized Video Management System. SATATYA is positioned as an enterprise grade solution. It is most suitable for enterprises demanding much more than just video capturing, viewing and recording. Matrix SATATYA offers centralized video surveillance with add-on applications such as Command & Control, Parking Management, Weighbridge Integration and Cognitive Response Engine. SATATYA's flexible architecture and vast range of functions-features are designed to cater diverse industries including BFSI, retail, services, hospitality, manufacturing, transport, ports & logistics, research laboratories, data centers, defense and government.
Matrix COSEC is an enterprise grade People Mobility Management solution for organizations covering Time-Attendance, Access Control, Visitor Management, Employee Self Service, Cafeteria Management and Contract Workers Management. Matrix COSEC is an all-integrated solution including hardware devices and a suite of software application modules. Matrix COSEC delivers full proof security and improves productivity of the organizations.
In TELECOM, Matrix specializes in enterprise grade, end-to-end Voice Communication solutions. Matrix Telecom portfolio covers Unified Communications Servers, Hybrid Servers, IP-PBXs, Media Gateways, VoIP Terminals and Mobile Applications. Matrix UC platforms are network agnostic, flexible, scalable, feature-rich and field hardened.
Q. Which are the some of your pioneering products you introduced in the market recently or is there any plan to launch the new products?
In Video Surveillance domain, we have launched Matrix PARAM series of Network Video Recorders (4 to 64 channels) with 4K, H.265, RAID10, Cascading and such other features.
We are also introducing Project Series Mini Dome 2MP and 3MP IP cameras.
In People Mobility Management domain, we have launched VYOM – Cloud version of COSEC CENTRA server meeting requirements of all access control, time-attendance, visitor management and other applications. We have also launched Face Recognition technology and devices. In addition, few more controllers and devices with new generation identification technologies are in the pipeline.
Coming to Telecom, Matrix has launched SPARK and PRASAR – pure play IP UC servers and platforms. We are also ready to launch Matrix PARISAT – Video Conferencing solution. In coming months, we are working on introducing ANANT (UC Server) and TEJAS (Management Server).
Overall, Matrix is focused on new generation technologies such as Video Analytics, AI, Deep Learning, Cloud, etc.
Q. How do you account R&D activity in your company?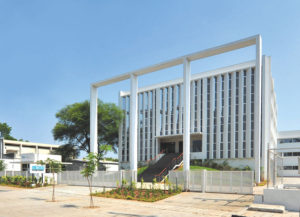 Matrix is one of very few indigenous R&D companies having independent product designing capabilities in hardware, embedded software, applications software, mobile applications and mechanical engineering. With more than 40% of the total manpower dedicated to development of new products, Matrix R&D is the foundation of our growth and sustenance. Matrix R&D is strong in its capabilities, processes and infrastructure to design world-class products conforming to all relevant international standards.
Q. Brief us about the quality policy for your business?
Today, customers assume and expect quality by default. From this perspective, quality is no more a differentiating feature. It is an essential feature. Matrix is on a mission to deliver world-class Security and Telecom solutions through continuous improvements in technology and processes. We believe it is possible to design and build world-class technology solutions in
Q. How do you foresee "India" as a potential market, what are the prospects?
Matrix products are of technology and infrastructure nature, helping organizations enhance productivity, security and safety. Indian economy is growing steadily and rapidly and this growth is coming from irreversible urbanization and industrialization. Matrix is in complete sync with this Indian growth story.
Q. What are the distinguishing facts of global market as against the Indian market?
In terms of technology, all markets are integrated in today's globalized economy. Gone are the days of large technology and product lags between developed countries and India. Matrix products are designed for the international markets and these same products are also offered in India. Having said this, there are always certain regulatory and certification requirements that differ from one market to another. Matrix products meet all Indian and International Standards such as BIS, TEC, STQC, CE, FCC, ROHS, etc.
In terms of prices, different countries have different costs based on their cost of living or cost of doing business. Product prices may vary from one market to another.
Q. What are your strategies to improve the Matrix position in Indian & global market as well?
Differentiation is our core and overarching strategy. We work hard to create ample differentiation products architecture, functions, features and performance. In marketing and sales, we believe in strong distribution and channel networks. We have nearly 2,500+ channel partners spread across the world focused on promoting and supporting Matrix products not only in India but also in other countries including Europe, America, Middle East, Africa, Asia and Australia. Our marketing team works closely with these channel partners to ensure Matrix products serve security and communication needs of the customers efficiently, faster and longer. Support is another area where Matrix is different. Dedicated Customer Care team provides prompt assistance to our customers. Finally, 24×7 after-sales technical support ensures complete satisfaction to all our SI partners and end customers.
Q. According to you what are the factors affecting to your business?
Technology trends, ecosystem for R&D and manufacturing, economy and government policies are the four most important factors affecting Matrix business.
Q. What are the key technological trends that are driving the security and communications product industry?
Video Surveillance is evolving from age-old analog, hardware centric products to software centric, IP and wireless solutions. Software applications are web based and they support mobile applications. Camera resolution is increasing and so is coding technology from H.264 to H.265.
Mobility and Cloud are other two technology trends driving innovation. As bandwidth bottlenecks are being removed enterprise applications are moving to the Cloud eliminating customer-premise hardware, servers and software. Finally, new generation Intelligent Video Analytics (IVA) algorithms on Deep Learning help automate many manual processes and create newer functions and applications.
Q. What is your vision for Matrix?
Our vision is to build Matrix into a world-class Security and Telecom solutions providing company operating all over the world.
Q. What are the issues you need to address that are related to your industry?
Let us start with indigenous R&D. Indian industry is dependent on external R&D and technologies. The industry and government should work together to correct this by promoting indigenous R&D.
Second is lack of domestic manufacturing. While India is one of the largest markets in the world, there are not many manufacturers in India. India has become a virtual dumping ground for imported products. Once again, this situation is not sustainable and needs immediate correction.
Third is lack of awareness. Today, security products are sold as boxes without customers knowing overall business impact and benefits. Many customers mistakenly equate products with solutions to their existing problems. I believe higher customer awareness and better responsibility on part of manufacturers and system integrators would improve customer satisfaction.
Finally, I would add the common point of economic growth. Like all other industries, security and telecom equipment business is tightly linked to the overall economy.