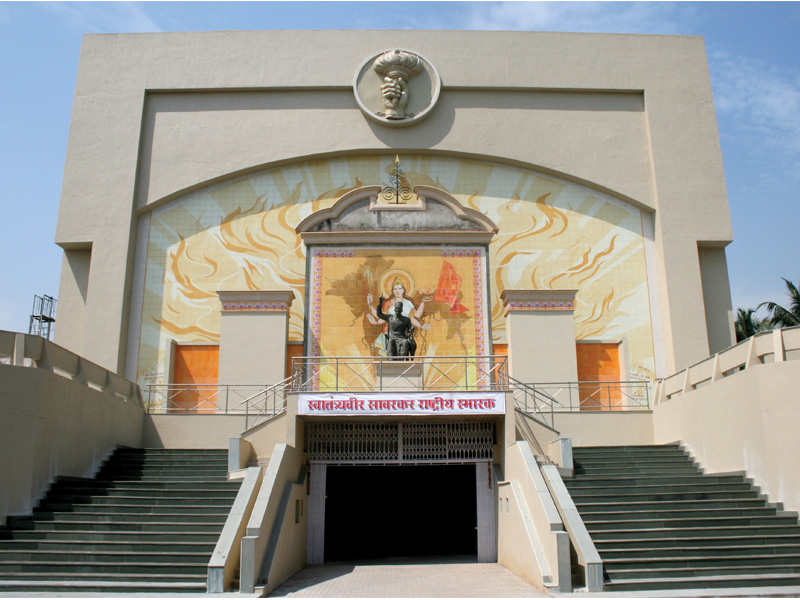 Swatantryaveer Vinayak Damodar Savarkar was an intrepid armed revolutionary of the freedom struggle, a social reformer, a great poet and an outstanding litterateur, a dramatist par excellence, and a ceaseless crusader of the nationalist cause. The National Memorial raised in the memory of Swatantryaveer Savarkar is an iconic place, which attracts a large number of people from all parts of India and the world.
This seaside memorial erected on a plot of 6650 sq. meters provided by Municipal Corporation of Greater Bombay have a 20000 sq.ft. plaza where a life size statue of Veer Savarkar is setup surrounded by a beautifully designed garden with two colourful fountains giving the whole surrounding a magnificent look.
The Samarak has a National Museum of Revolutionaries, and Auditorium, Research and Reference library, Military Training Centre, Yoga and Physical Training Centre, Medical Centre and Mobile Hospital and also a Book Trust. Savarkar Smarak have a broad range of instructional classes available in Dance, Singing, Yoga, Karate, Cartoon, Painting ,Boxing, Archery, Riffle Shooting, etc. There is a well-equipped Gymnasium and a Library in the premises.
The Sawarkar Smarak has a well-equipped auditorium with capacity for 450 people. There are roughly around 700 + people present in the Savarkar Smarak at any given time.
Requirement
As Swatantryaveer Savarkar Rashtriya Smarak is a leading learning hub in the heart of the city, for instructional classes. The premises are frequented by visitors, students, parents and the public. To manage such huge number of people and make a fully secured premises, a full-proof security in the Sawarkar Smarak was one of the key requirements.
The solution in terms of Surveillance camera to cover every corner of the premises, monitoring of sea side boundary wall, Fingerprint Access Control System to restrict unauthorized access, Vehicle Entrance Control System to restrict unauthorized vehicle entry and Attendance Management System for Employees of Savarkar Smarak.
Solution
Mr. Shailendra Chikhalkar, Consultant, M/s Infozenix Solutions & Consultancy Services has designed a Fully Integrated Security Solution where Hikvision products were used to achieve the required result.
Currently 150+ Cameras are used effectively to monitor every corner of the premises. The solution consists of various types of cameras, including fixed, PTZ and Fish Eye,to monitor the premises effectively . The Fingerprint Access Control system deployed at every door of classes so students can enter the classes only if they are authorized. In the administrative office area fingerprint access control devices are used for Access Control and attendance record. The software is a Web based Access and Attendance Software, which has a complete attendance management solution with third party software integration interface (ERP/HRMS/Fee Collection Software). The Fire Alarm system is integrated with surveillance and Access Control Systems so in case of fire, cameras get the alerts and focus the incident area while access control system opens the door. The premises have a multi-door controller for Vehicle Entrance control with Wiegand based Long Range Reader and RFID Tag.
"Swatrantryaveer Savarkar Rashtriya Smarak is a national memorial of strategic importance. This memorial has been secured with the help of Hikvision Integrated Security Solutions. The integrated solution comprising of Video Surveillance Cameras, Access Controlled Doors and Vehicle Entrance Control System. These security systems are very helpful for the security management of premises and visitors. The physical security management systems of the premises are in excellent condition and providing proactive security. We are thankful to Mr. Shailendra Chikhalkar (Infozenix Solutions & Consultancy Services) and Hikvision for providing a perfect security solution," said Mr. Ranjit Savarkar, Chairman, Swatantryaveer Savarkar Rashtriya Smarak.
"We take this opportunity to thank Hikvision team for the painstaking efforts, coordination and teamwork in providing products to Swatantryaveer Savarkar Rashtriya Smarak. Hikvision has once again gained the trust of the end-user by providing a perfect security solution with timely technical support. We also acknowledge and appreciate the teamwork of Ulteam Computers & Technologies in extending all support during installation. The execution of this project was done as per the industry standards," said Mr. Shailendra Chikhalkar, Consultant, Swatantryaveer Savarkar Rashtriya Smarak.