PROJECT HIGHLIGHTS:
SECTOR: Private Sector – Manufacturing
PROJECT NAME: UltraTech Cement Ltd
LOCATION: Dhar, Madhya Pradesh
USERS: 500+
SOLUTION: Attendance Management with Mask & Temperature Detection
TECHNOLOGY : Infrared Temperature Sensor
OVERVIEW:
UltraTech Cement Ltd is one of the world's largest cement producers in the world headquartered in Mumbai. It is a subsidiary of the Indian multinational conglomerate, Aditya Birla Group. The subsidiary produces a range of cement products including grey cement, ready mix concrete (RMC) and white cement with an installed capacity of 116.75 million tons per annum. UltraTech Cement has 23 integrated plants, 1 clinkerisation plant, 26 grinding units and 7 bulk terminals. Its operations span across India, UAE, Bahrain, and Sri Lanka.
CHALLENGE:
Amid the current circumstances, health protective measure and people screening procedures are mandatory to safeguard people against infectious disease spread, with respect to this UltraTech faced a critical situation where they had to cope with business continuity in order to stay as a top cement manufacturer while ensuring the safety of their staff members as well as abiding to the government regulations.
Requirements:
Effective People Screening Solution that eliminates additional manpower requirement to perform screening procedures.
Non-contact-based user identification methods for safe and hygienic employee Attendance Management.
Access Control System with Mask Detection capabilities to avoid staff members removing mask to get verified.
Enhance administration efficiency in controlling the spread of infectious diseases in workplace environment.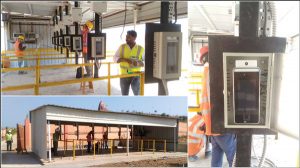 SOLUTION:
To meet all the requirements of UltraTech Cement, Multiple units of SpeedFace V5L [TD] Biometric Terminals were installed at the entrance site of the organization. The staff members were advised to go through the Temperature Screening procedure while simultaneously marking their presence via Facial Recognition for accurate attendance record. As Temperature and Masked Facial Recognition could be performed automatically by the SpeedFace devices, no manual process of screening would be required, which eliminated additional labour requirement at the entrance gate. In addition, the devices could identify if the masks were being worn properly and would notify upon abnormal temperature detection.
RESULTS:
Establishment of safe and hygienic user verification for attendance management.
Implemented powerful temperature screening system for staff members before entering inside the campus.
Touch-free identification of workers so as to minimize the spread of infectious germs through contaminated surface.
Quick recognition of staff members for optimized traffic flow, thereby reducing the possibilities of crowd formation.
For more information Visit: www.zkteco.in