Aarush: A trailblazer in fire protection systems
Aarush Fire Systems is the brainchild of the first generation entrepreneur Arjun Jadhav who hitched his wagon to firefighting and fire protection. His burning desire to make it big was fulfilled by his son Rahul Jadhav, who armed with an engineering degree and an MBA, joined the family business in 2014 after gaining some work experience in the industry. Today Aarush Fire Systems Pvt. Ltd. is dealing in the entire gamut of firefighting and fire protection systems – designing, customizing, supplying, installing and servicing these critical equipment at customers' end. In a little over a decade, the Pune-based Aarush has enlisted an impressive list of giant companies and MNCs as its clients. This apart, the Jadhavs have partnered with safety professionals and government departments to increase awareness of fire safety in society. Aarush also yearns to become a listed company and foray into the international market very soon finds out Industrial Safety Review in an interview. Excerpts:
Q. Please throw some light on the humble beginnings of Aarush.
Aarush Fire Systems was started as a Proprietary Firm in 2011 by. Arjun Jadhav. Before Starting Aarush Fire Systems, Rahul Jadhav started his career as a Sales Executive in a firefighting company in Pune after completing his Engineering & MBA. Rahul did the job for one year and then started a new company with two other business partners. However, since there was no harmony in thinking levels,that partnership broke down within one year, Rahul Jadhav took up a job in an Institute.
After two years when an inquiry from one of the reputed clients for Fire Systems Supply & Installation was received, Aarush Fire Systems got started as a Proprietary Firm in 2011 by Arjun Jadhav, father of Rahul Jadhav. The new firm successfully executed the said order. In 2011 Aarush Fire Systems achieved an annual turnover of Rs. 42 Lakhs.
Q. Ten years down the memory lane, which was the turning point in your business?
During FY 2011, Aarush Fire Systems achieved a business of Rs. 42 Lakhs, and during FY 2012 Aarush clocked a business of Rs. 58 Lakhs. In 2013 Aarush Fire Systems got 2 consecutives orders from Hindustan Coca Cola 2 different plants and with these orders, the company's annual turnover crossed Rs. 1 Cr. At this point of time, Rahul Jadhav left his job and joined full time with Aarush Fire Systems in year 2014. This became the turning point for Aarush Fire Systems.
Aarush was incorporated as a private limited company known by the name Aarush Fire Systems Pvt. Ltd. We also got some reputed clients.
With this change good employees started joining Aarush Fire Systems and by initiating presence in Print as well as Social Media, Aarush Fire Systems started gaining name in Firefighting Industry. The company also started receiving orders from other reputed and well-known clients like Wipro, Kirloskar Brothers, Anchor by Panasonic, JSW, Nilkamal Industries, Mahindra CIE, 3M, Aptar Pharma, Parakh Foods and many more. These reputed clients patronized Aarush Fire Systems not only because of its presence in the medias but also due to our technical competence and our transparency in dealings with the clients with a view to passing on the benefits of reasonable costing, accuracy, quality and workmanship in executing firefighting projects.

Q. What's your niche in fire protection systems?
Aarush Fire Systems is the only one Pune-based company which provides the entire range of Fire Protection Systems & Equipments. We offer almost 24 to 25 different types of Fire Protection Systems & Equipment to our clients. All of these Fire Systems have been designed by us in-house for different occupancies and industries.
Almost all Fire Systems are customized as per type & size of building occupancy. Apart from regular Fire Hydrant Systems, Water Sprinkler Systems, and Fire Alarm Systems, we design customized Gas Suppression Systems for different types of electrical machineries & electronic cabinets. These gas suppression systems do localized protection of Heavy / Costly / Critical Electrical Machineries or Electronic Cabinets and Electrical Panels from Fire. We choose & design customized Gas suppression systems as per specifications, internal structures & criticality of Electrical Machinery, Electronic components & electrical panels. Due to this selection process & use of localized fire protection systems, cost cutting & accurate fire protection, we could pass on the cost benefits to our esteemed clients.
Q. How do you substantiate your tag line: 'We make your world safer'?
As we provide the entire range of fire protection systems & equipment to our clients, we design these customized systems as per specific requirements of clients as well as industry norms and also norms specified by Fire Departments. Apart from these Design, Supply & Installation activities, we have taken some initiatives like during Safety Week Excellence Awards for EHS Officers & Safety Managers, we organized meets of Safety Officers to increase awareness of safety through motivating professionals in the Safety field.
Q. What are the turnkey solutions you provide?
We Design, Supply, and Install complete range of Fire Protection Systems & Equipments. These include:
All Types of Fire Extinguishers & AMCs, Smoke Detection & Fire Alarm Systems, Fire Hydrant Systems, Water Sprinkler Systems, Foam Sprinkler Systems, Water Curtain Systems, Pre Action Sprinkler Systems, Medium Velocity & High Velocity Water Spray Systems, Water Mist Systems, Foam Pourer & Foam Flooding Systems, Gas Suppression Systems like CO2 Flooding, FM200, NOVEC Systems, Direct Suppression Tubing Systems & Indirect Suppression Systems for Electrical Panels & Cabinets, Kitchen Hood Suppression System, Vehicle Suppression Systems, Fire Tenders, Fire Blankets, Fire Doors, Fire Resistant Chemicals, Fire Balls, Training & Live Demonstrations and Liaising From Fire Departments.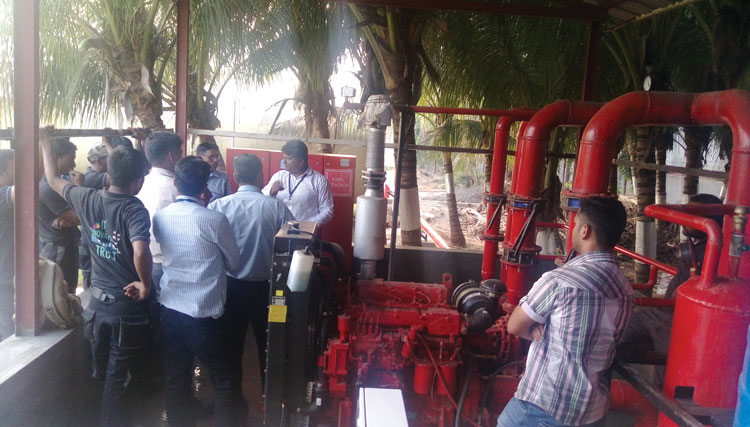 Q. What are the codes and specifications you follow in manufacturing and installation to ensure safety compliance?
We design, supply & install Fire Protection Systems as per Indian Standards in compliance with Maharashtra Fire Prevention & Life Safety Act, IS Standards, National Building Codes, Part – 4 etc. We also follow International Standards like NFPA.
Q. Which are the industry segments you serve? Who are your major customers?
We mostly cater to Industrial buildings. In Industrial sector we serve almost all types like Automobile Industries, Food & Beverages Industries, Pharma Industries, IT Industries & Engineering Units. Apart from Industrial Buildings we provide our systems and services to Residential Buildings, Schools & Colleges, Hotels, Commercial Buildings & Public Buildings.
Our well-known clients are Hindustan Coca Cola (3 repeat orders for 3 plants), Wipro Industries (2 repeat orders), Anchor by Panasonic ( 2 repeat orders), Aptar Pharma ( 3 repeat orders), Nilkamal Ltd. ( 3 repeat orders), Parakh Foods Ltd. ( 4 repeat orders), JSW, Mahindra CIE, 3 M, Kirloskar Brothers Ltd., Indo Schottle, Gestamp, Mubea, Neosym Industries, Hospitals, Commercial Buildings & School Buildings.
Q. What are your comments on 'fire safety' in India? Are we doing enough to create awareness and ensure fire protection in the country?
In India awareness regarding Fire Safety is very low. Building owners, who must install Fire Systems for their Building premises, consider that installing Fire Systems is a dead investment. Now-a-days various Fire Accidents are happening in various Industries as well as in Commercial buildings, Hospitals, Hotels & Residential buildings. So by considering these Fire accidents, the government is making it compulsory to get Fire Protection Systems installed.
The government has also made it mandatory to maintain these installed systems. Still there is lack of awareness. The government should do more and more campaigns on awareness of Fire & Safety. Fire & Safety related subjects should be included in the curriculum, so awareness starts from student's level itself.
Q. What are the technological innovations you have showcased recently? Are we self-reliant in fire protection systems?
We design customized Fire Protection Systems like Fire Hydrant Systems, Sprinkler Systems, and Fire Alarm Systems. Besides, we do customized Gas Suppression Systems for various Electrical machineries, Electronic Cabinets and Electrical Panels. We also design Foam Sprinkler Systems & Foam Flooding Systems for Petroleum Substances & Oil Storage tanks.
Q. What are your growth plans and how do you look at the future?
Currently we are catering to clients pan India and our aim is to become a listed company i.e. Aarush Fire Systems Ltd. We have plans to enter the international market by 2025.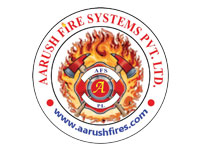 For more information:https://aarushfiresystemspvtltd.nowfloats.com/