In order to provide reliable safety solutions also in particularly challenging applications, VdS has developed Guidelines for effective IR camera devices for temperature monitoring.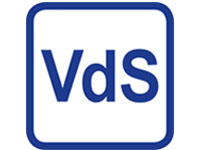 In the critical environmental conditions of industrial and recycling plants or waste disposal sites, conventional fire detection technology often reaches its limits. IR cameras are increasingly being used there to detect thermal anomalies at an early stage. Yet, there are no ISO or EN standards for these products. Therefore VdS has published requirements and test methods for these applications.
"In order to provide safe solutions also for these challenging areas, we have developed a test procedure that assesses the effectiveness of IR camera devices. In addition to reliable response behaviour, the resistance of the components to various environmental influences is also verified," explains Rafael Bernsdorf, head of the VdS laboratories for special fire detection products.
The new Guidelines VdS 3878, "IR-Camera Devices for Temperature Monitoring, Requirements and Test Methods" can be downloaded free of charge from vds-shop.de (there you also find the publication for planning and installation, VdS 3189). The innovative Guidelines of Europe's largest institute for fire protection have often formed the basis for later EU and other international safety standards, which makes them even more interesting for manufacturers.
About VdS:
VdS is one of the world's most renowned institutions for corporate safety and security. 500 experts offer a unique range of services for fire protection, security, cyber-security and natural hazard prevention.
Services include risk assessments, testing and certification, inspections, information systems for natural hazards and an extensive training program. In addition, the independent institute sets international safety and security standards with the publication of a comprehensive set of Guidelines.
The optimal protection of our partners is based on a worldwide unique protection concept whose reliability builds on more than 110 years of VdS-experience, combining all core aspects of loss prevention. Decision-makers around the world rely on VdS-approved reliability and certainty.
More information at vds-global.com