FIRES CONTINUE TO TAKE MASSIVE A TOLL ON INDUSTRIAL FACILITIES, HISTORY CONTINUES TO REPEAT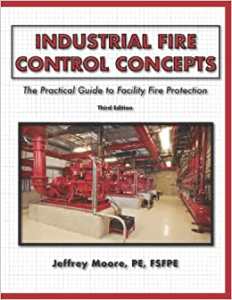 [Cincinnati, Ohio, April 11, 2022] Recent massive fires involving warehouses and distribution centers operated by Amazon, QVC, Walmart, and others are the same fires experienced in such facilities for decades. The same lesson, the fire sprinklers outstripped by the hazards in the facility, lack of substantial firewalls and fire barriers, and the introduction of higher hazard materials into the buildings are the same conditions and circumstances that resulted in the destruction of similar facilities operated by Sherwin Williams, K-Mart, Ford, and others during the 1980s. Unfortunately, such lessons are much too expensive and disruptive to be repeated by each new generation of facility management.
In a recently updated text, Industrial Fire Control Concepts, author Jeffrey Moore draws on more than forty years of professional experience in fire protection engineering and industrial loss control to introduce newcomers and fire protection veterans alike to the essential elements crucial in protecting and maintaining industrial properties. The author lays out each aspect of a carefully crafted approach to designing, installing, testing, and maintaining the interlocking systems necessary to protect an industrial, commercial, or institutional facility against the potential of a minor incident escalating to the level of a disaster.
Moore begins reviewing past significant fire incidents that demonstrate that recent disasters are simply earlier fire disasters repeated in different facilities. For example, in 1982, a 1.2 million square foot K-mart distribution center in Bucks County, Pennsylvania, burned the facility to the ground with a resulting loss of well over $100 million in 1982 dollars. The disaster resulted from changes in the commodities stored in the warehouse, a lack of firewall integrity, and the failure of facility management to manage change in the facility properly. These are undoubtedly the same reasons for the most recent disasters. These lessons and others learned from past industrial fire disasters are clearly explained, along with the need for properly designed and installed fire protection systems and features.
Each chapter builds on the "Systems Approach to Fire Protection" explained in Chapter 3 to show how manual fire suppression equipment, automatic fire detection and alarm systems, sprinkler systems, fire protection water supplies, and special fire extinguishing systems, such as clean agents and water mist, are melded together to address site-specific fire protection needs and concerns. Two of the last chapters, "Management Fire Control Programs" and "Pre-emergency Planning," explain facility management's role in developing and implementing loss control measures and programs to address the employee actions needed to maintain the highest level of facility fire safety.
The last chapter explains the unique fire loss control concerns of information technology equipment and operations, warehousing and storage facilities, flammable and combustible liquids, and combustible dust. Throughout the text, conversations between a "Wise Old Fire Protection Engineer" and a "Brash Young Fire Protection Engineer address many common fire protection and fire risk management questions, concerns, and misconceptions.
This book will benefit facility managers, plant/facilities engineering personnel, fire protection professionals, and individuals who work in virtually any aspect of fire protection, including those in the public fire service.
The author, Jeffrey Moore, PE, FSFPE, is a licensed fire protection engineer with over forty years of experience in fire protection engineering, fire protection system design, fire code consulting, industrial loss control, and fire and loss investigation. He has also been involved with fire protection education and training for more than thirty-five years, developing and teaching training programs for Industrial Risk Insurers, the National Fire Protection Association, the Society of Fire Protection Engineers, and many other organizations.
The full-color, heavily illustrated book is available on Amazon.com. Send an email to firemarkpress@gmail.com and request a copy of the Table of Contents and a representative sample from the book.