ADDRESS THE RIGOROUS STORAGE REQUIREMENTS FOR VISUAL EFFECTS, ANIMATION, AND VIRTUAL REALITY WORKFLOWS
The evolution of visual effects (VFX), animation, and virtual reality (VR) technologies is dramatically changing both the creation and consumption of films, videos, games, and more.
Next-generation VFX and animation software applications, and innovative 360-degree camera systems are creating exciting new possibilities for creative professionals. At the same time, new consumer technologies—from 4K/ultra-high-definition (UHD) televisions to VR viewers that attach to smartphones—are enabling a growing number of people to enjoy the captivating experiences that creative professionals are producing.
As the array of creative options expands, and the cost of producing and consuming technologies declines, organizations across industries are using VFX, animation, and VR in new ways. In addition to producing compelling feature films and games, organizations are incorporating more exciting effects and experiences into everything from sporting events to corporate videos.
The enormous economic potential for new visual experiences has spurred the launch of new businesses and driven technology companies to shift resources toward developing solutions in these areas.
Meanwhile, investors are pouring in billions to help spark and sustain innovation.
What does all this change mean for VFX facilities, animation studios, VR firms, and similar organizations? These organizations are growing rapidly as clients increasingly demand engaging content that capitalizes on new technologies.
But behind the scenes, many organizations need to overhaul their technology infrastructure. Finding the right storage solution will be vital. To support today's demanding VFX, animation, and VR production workflows, companies need:
Performance for fast access to files— supporting demanding processes and enabling real-time playout of high- resolution media
Scalability to handle a rising volume of large files, expanding teams, and a growing number of render servers
Shared access to content for supporting collaborative workflows
Cost containment that balances performance and cost, and minimizes administrative complexity
Visual Effects (VFX)
VFX ARTISTS ARE CREATING MORE SHOTS, DATA SETS ARE GROWING From action-adventure games and science fiction feature films to TV commercials and YouTube videos, VFX can play a critical role in enhancing excitement and adding a heightened sense of realism to scenes.
With today's advanced software applications plus powerful workstations and servers, VFX artists are meticulously creating vivid landscapes; depicting intricate behaviors; and generating extremely realistic depictions of water, hair, clothes, and other complex materials. Eager to take advantage of new technologies, directors are adding more and more VFX to films. They are moving from tens or hundreds of VFX shots per film to thousands. VFX artists are producing those shots at higher resolutions for integration with high-resolution films and shows.
Of course, as VFX artists are creating more shots, data sets are growing. A VFX-heavy film today can easily consume more than petabyte of data. Organizations need highly scalable storage solutions that handle the tremendous capacity required for each project.
Performance is also key. Teams need random I/O performance to support VFX processes with large, high-resolution files. Later in the production cycle, teams need exceptional sequential I/O performance for high-speed playout.
Throughout production, VFX teams need storage solutions that can provide shared access to content. Organizations need to facilitate collaboration across editing, CGI, and rendering operations without delays that can slow productivity.
And while producers and studios are often willing to invest heavily in VFX, organizations must keep costs under control. They need to make sure they are balancing performance and cost across storage tiers. In addition, they must keep administrative costs low: production houses want to automate some tasks and streamline others, so they can stay focused on creative work.
QUANTUM SOLUTION: Swordfish
Background: San Francisco–based Swordfish is a motion design studio that specializes in marketing and user experience services and offers an array of post-production services. Clients range from large technical companies to corporations in other fields.
Challenge: The company needed to implement scalable, high-performance storage that could accommodate large 4K projects and an expanding team while transparently supporting existing production applications.
Solution:
Quantum StorNext® workflow storage Benefits:
Gained the performance for real-time playback, sharing of large files, and fast collaborative workflows
Enabled transparent integration with existing applications
Enhanced reliability for protecting critical content and maintaining high availability
Accessed a growth path to support the next generation of high-resolution media
ANIMATION
DEMAND FOR ANIMATION IS RISING, PRODUCING NEW
CGI animation has become a multi-billion-dollar industry that has produced more than 250 computer-animated films since Toy Story.
The release of Pixar's Toy Story in 1995— the first fully computer-animated movie— ushered in a new era in animation and movie-making. At the same time, studios and production teams continue to incorporate CGI animation into more projects to supplement other VFX shots. Today, CGI animation is often a key element in VFX workflows. Just like VFX, the enormous demand for animated content has produced technical challenges for creative studios. First, these organizations must be able to provide artists and teams with access to powerful computer resources to complete the full range of production tasks, including modeling, texturing, rigging, lighting, animating, and compositing.
In addition, studios must also enable access to scalable storage resources. Producing fully animated or partially animated films in high resolution can yield up to a petabyte or more of data. Storage solutions must have the scalability for rapidly rising capacity needs. In addition, storage solutions must have the scalable connectivity and bandwidth to support growing render farms.
Robust performance is crucial. For the creation of animated characters and effects, animation studios need storage systems with strong random I/O performance to support animation workflows for numerous simultaneous users. These studios often employ scores of animators who need fast access to shared data. In addition, studios need distinct storage systems with high sequential I/O performance for high-resolution playout. If they can implement storage solutions that deliver both kinds of performance, they can speed the movement of content and avoid network congestion.
QUANTUM SOLUTION: Platinum Platypus
Background: A motion graphics studio in New York, Platinum Platypus creates and produces "visual adrenaline" for production companies, broadcast networks, and sports franchises. The studio focuses on VFX, motion graphics, and 3D characters and animation.
Challenge: The studio needed a scalable storage solution that could keep pace with rapid client growth. The solution had to include high-performance centralized shared storage for the huge files of HD, 2K, and 4K workflows plus a centralized archive for completed projects.
Solution:
Quantum StorNext workflow storage
Quantum Scalar® tape library
Benefits:
Boosted performance for fast, simultaneous access to large, high-resolution files
Gained cost-effective scalability for the future
Streamlined collaboration among teams
Simplified archiving of completed projects
VIRTUAL REALITY (VR)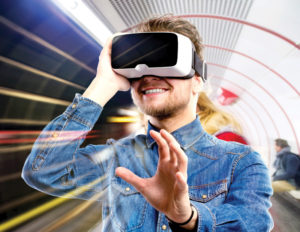 DELIVERING IMMERSIVE, INTERACTIVE EXPERIENCES REQUIRES STORAGE CHANGES
Building on the compelling experiences that VFX and CGI animation can deliver, VR provides the next level of engagement through true immersion and interactivity.
Organizations across industries are exploring a wide array of use cases for VR—from gaming, sports, and entertainment to technical training, sales, and marketing.
With VR, users can travel to a newly imagined world, place themselves at the center of a football game, train for combat, or thoroughly investigate prototype product designs.
New technologies are spurring innovation among VR producers and enabling more and more people to experience VR firsthand. For example, the development of new, more cost-effective VR camera systems is opening up new creative opportunities for VR production teams. Meanwhile, new consumer VR solutions are helping to expand the audience for VR. Consumers can choose high-end dedicated VR systems like Oculus Rift, simply pair their smartphones with Google Cardboard, or even experience 360-degree videos on Facebook and YouTube.
For many organizations producing VR experiences, capitalizing on the creative potential for VR will require changes to their storage infrastructure. Advanced VR camera systems require high-performance storage that can ingest large amounts of content from numerous cameras. Facebook Surround 360, for example, uses 17 cameras, which capture 2GB/s. The EYE camera from 360 Designs uses 42 Blackmagic Micro Cinema cameras, which yield 2.7GB/s. And uncompressed 5K stereoscopic systems can capture 7GB/s.
Systems must also provide the performance to enable stitching of multiple camera streams. For post-production, VR firms need systems that can play the final, enormous stitched image—which is often 4K, 6K, or 8K video at high frame rates.
Organizations also need storage solutions that can provide the scalability to support exponential data growth. Some VR projects can produce even more data than VFX or animation projects. Each VR project might require storage for hundreds of terabytes of large, high-resolution files.
To support collaborative workflows, storage solutions for VR must provide shared access to content across edit and render operations. VR production teams often need to support more Fibre Channel clients than with animation and VFX workflows. VR firms often have multiple suites editing and compositing the same project simultaneously. At the same time, VR production teams must share content with color grading, editing, VFX, and animation suites.
ADDRESS KEY STORAGE CHALLENGES WITH QUANTUM SOLUTIONS
Quantum StorNext storage solutions can help your organization address key storage challenges as you strive to meet rapidly growing demand for compelling, high-resolution visual experiences.
PERFORMANCE
Quantum solutions combine flash drives with more economical high-capacity disk drives to deliver outstanding, flash-level performance for VFX, animation, and VR workflows at a fraction of the cost of all-flash systems.
By creating a single environment that delivers both strong random and sequential I/O performance, you can speed the movement of content and reduce network congestion. Users gain the performance to ingest multi-camera content; rapidly access large, high-resolution files; and play out media in real time.
SCALABILITY
Quantum solutions can scale to billions of files and petabytes of data to support even the largest VFX, animation, and VR projects. Quantum's modular design simplifies expansion and allows you to scale performance and capacity independently.
You can also increase or decrease the number of render servers cost-effectively.
COLLABORATION
Quantum solutions offer a single-namespace environment with IP and Fibre Channel connectivity for centralized media creation and distribution. The Quantum environment can be accessed by a wide range of client systems—whether they are running Windows, Linux, UNIX, or Mac operating systems.
As a result, you can support a wide array of simultaneous users who can access content wherever it resides.
COST OPTIMIZATION
The unified Quantum architecture with intelligent tiering outperforms competing network-attached solutions while using fewer disks at lower costs.