Rustomjee Group Handovers two high rise fire fighting vehicles (HRFFV) to Thane Municipal Corporation On The Occasion Of Independence Day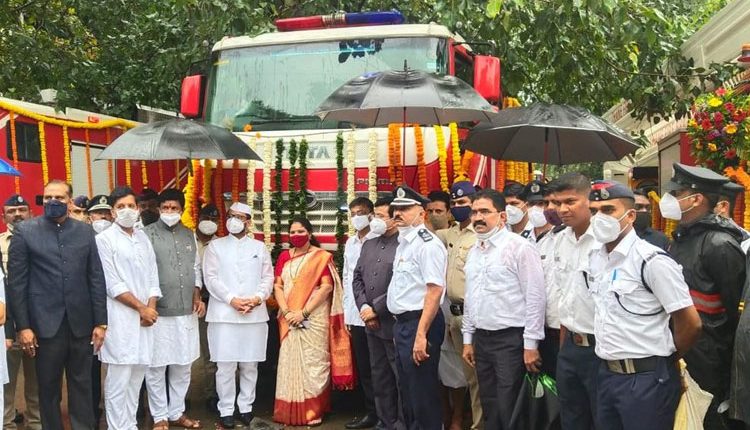 Keeping up with its commitment of community welfare, on the occasion of India's 75th Independence Day, Rustomjee Urbania's team handed over two high rise fire fighting vehicles (HRFFV) to TMC (Thane Municipal Corporation). The fire fighting vehicles will be used by the Thane administration to tackle fires in high rises in an effective manner. Eknath Shinde, Cabinet Minister of Urban Development and PWD, MH State Guardian Minister, Thane & Gadchiroli Dist along with Dr.Vipin Sharma, Thane municipal Commissioner & Naresh Mhaske, and Mayor of Thane was present at the event to inaugurate the fire fighting vehicles. Considering the development of Thane as an area, the rapidly coming up tall buildings plus increasing infrastructure, this endeavour by Rustomjee will aid the local bodies of the district in effective area management
Thane is one of the most developing districts in Maharashtra. With Rustomjee landmark project Urbania, they recognized the need for top notch infrastructure and safety measurements. Hence, with a vision to ensure community safety while further developing Thane as a locality, Rustomjee is taking steps to focus on holistic transformation. The special fire-fighting engines for high-rises will be able to fight fires up to 45 floors with the help of a high pressure pump and will have a water tank capacity of 10,000 liters.
The two vehicles were handed over by Mr. Madhusudan Narayan, Vice President– Projects, Rustomjee Urbania & Mr. Suvek Salankar–Head of Fire and Safety, Rustomjee Urbania in the presence of key members of the Thane Municipal Corporation. Talking about the initiative, Mr. Percy S. Chowdhry, Director, Rustomjee Group said, "At Rustomjee, it is our constant endeavour to not only ensure good safety and quality checks in our projects but also look at holistic safety for the overall community. We are very happy to partake in this initiative and are confident that the special fire fighting vehicles will benefit the area. With the support of the Thane Municipal Corporation, we have managed to bring alive our vision of building a premium township, 'Rustomjee Urbania' in the city of lakes. We will continue to work closely with TMC towards the betterment of the area"
The occasion witnessed participation from key members of the Thane Municipal Corporation including – Mr. Eknath Shinde, Cabinet Minister of Urban Development and PWD, MH State | Guardian Minister, Thane & Gadchiroli Dist. Mr. Rajesh Narvekar, Collector & District Magistrate, Thane, Dr. Vipin Sharma, Thane municipal Commissioner, Mr. Jaijeet Singh, Thane Police Commissioner, Mr. Naresh Mhaske, Mayor of Thane, Mrs. Pallavi Kadam, Dy. Mayor of Thane, Mr. Sanjay Bhoir, Chairman, Standing Committee, Mr. Ashok Vaity, Leader of the house, Mr. Shanu Pathan, Leader of opposition, Mr. Sanjay Herwade, Additional municipal Commissioner, Mr. Ashok Burpulle, Dy municipal commissioner & Mr. Girish Zalke, Chief Fire Officer, Thane fire brigade.
About Rustomjee Urbania
Rustomjee Urbania currently boasts of a 100 + acre self-sufficient township in Thane. Rustomjee Urbania, a home to 4000+ families is known as one of the top townships in Mumbai, also offering Commercial Spaces, Retail Spaces, Fire station, Urban Farming zone, and Rustomjee Cambridge International School.