SPARSH CCTV a leading name in the industry, recently concluded its highly anticipated dealer meet, bringing together its extensive network of dealers and distributors for an immersive and productive event at their home ground Haridwar on the occasion of World Environment Day. This dealer meet was organized by SPARSH for its VLE partners on CSC platform.
It was a full day event which culminated in Tree plantation drive. The theme of the event was " LOVE Green Save Green Use Green".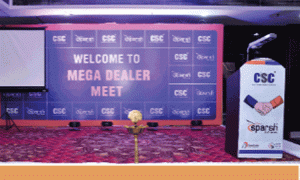 The meet began with an inspiring keynote address from Sapna Sehgal, Director and Co-founder SPARSH CCTV. She emphasized the importance of building strong relationships and aligning goals to create a mutually beneficial partnership. This was followed by virtual addressing of VLE partners by Sanjay Kumar Rakesh CEO and MD CSC-e Governance. Mr. Sanjay was very appreciable of environment friendly products coming in CCTV market under SPARSH Brand and highlighted the importance of eco-friendly products and solutions in today's world. He emphasized that by reducing our carbon footprint through managing E-Waste, conserving resources such as fuel via E-mobility solutions, and minimizing pollution, we can mitigate the negative impacts of human activities on ecosystems, biodiversity, and climate change.
The dealer meet provided a platform for Sparsh CCTV to showcase its latest product offerings and innovations. Attendees had the opportunity to witness live demonstrations, experience hands-on product showcases, and engage in interactive sessions with the company's product experts. These sessions equipped VLE's with comprehensive knowledge about the features, benefits, and target markets of the new products, empowering them to effectively communicate the value proposition to their customers.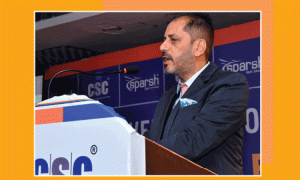 Talking about the event Sanjeev Sehgal, Founder MD, SPARSH CCTV said, "We're really proud of being able to bring together the dealers in one place making it easier for the dealers to benefit from the experiences of each other. We see the demand for our products to be strong and we don't want to play it on the back foot. Instead, we have used this as an opportunity to reach out to a more diverse set of customers and cater to their needs. This has translated into enquiries & orders and a great brand visibility event".
The event also saw the launch of the new product namely Smart Streetlight with 4G Camera which provides more than 70% Energy saving, Surge Protection, High Power Factor, NO UV/IR, Low THD, No Mercury. It is high-tech also with motion detection(4 zones), human detection, line crossing and area intrusion alert. The product was a huge hit and people gathered around it.
Gaurav Chaudhary AVP CSC-e Governance electrified the event with his interactive speech and said "CSC aims to digitally empower citizens by providing them access to a wide range of government and private services and with SPARSH onboard as our security surveillance partner we wish to educate our VLE network on importance of CCTV in today's environment in the remotest of areas. The Govt. has launched many schemes in this area to promote vigilance and enhance security of our nation. The amount of turnout in this event shows the confidence people show in products promoted by CSC as we assure top-notch quality of the products available on our platform" SPARSH then opened its doors hand-picked VLE's, offering them an exclusive opportunity to tour its cutting-edge factory. The visit, which took place at SPARSH CCTV state-of-the-art manufacturing facility in Sidcul provided dealers with a firsthand experience of the company's commitment to innovation, quality, and manufacturing excellence.
Guided by SPARSH CCTV staff, the dealers embarked on a comprehensive tour of the facility, gaining insights into every stage of the manufacturing process. From raw material sourcing to product assembly and quality control, they witnessed firsthand the meticulous attention to detail and the advanced technologies employed at each step.
In celebration of World Environment Day, SPARSH CCTV, a prominent advocate for environmental sustainability, organized a large-scale plantation drive aimed at combating climate change and promoting a greener future. The event, held at Sidcul brought together employees, CSC dignitaries, VLE partners and volunteers who shared a common vision of protecting the environment and preserving the planet for future generations. Extending the commitment to environment sustainability, SPARSH also created awareness among the public to avoid using plastic bags and distributed environment-friendly jute bags to the VLE Partners and avoided distributing cut flowers and gifted potted plants to dignitaries instead.
In conclusion, SPARSH CCTV mega dealer meet exemplified the company's commitment to collaboration, knowledge sharing, and empowering its association with CSC by providing a platform for interaction, training, and recognition, the event cemented the strong bond withCSC VLE network leading to enhanced customer service, improved sales performance, and overall business growth.