Tej Group: Benchmarking excellence in fire safety arena
The success story of Subhash Shingate, is an amazing journey in itself. It was a very humble beginning, born in a modest middle-class family without any background of business, support and mentorship.
Behind the stature of Tej Group today, is the passion, perseverance and hard work of Mr. Subhash Shingate. With the inborn attitude of unbreakable spirit he started earning his livelihood in very young age when he was the only financial backbone of his family. The journey of his empire was started at the early age of 23 years & he has built this empire right from the scratch.
His prompt & strategic decision making is part of this success. His specialty is to make a decision right by adding efforts in any adverse situation. It was the time to take the dreams to the next level. Mr. Subhash started his own company in 2007, Tejfire Safety India Pvt. Ltd. His experience in various business verticals added value to his work profile. After that the Tej Group expanded its wings into TSI MEP, Tej IT Solutions and Tej Agrotech. His vision to establish Tej Group as a strong and stable market leader with loyal customer base, has come true today.
The foundation of Subhash's success story is his grit and determination, his desire to deliver the best in class and his focus on
"No compromise in Quality".
He believes in taking the client's vision forward and retaining clients with committed efforts. Client's success is his priority and retaining client is true profit in his view. This commitment has earned him unwavering customer trust.
For Subhash, trust comes first. To earn the trust of his customers, he trusts his employees first. He has selected and retained best industry experts in various domains & has built his capable team with a well-knit network of associates. For him, every order is important and every customer valuable. Completion of every order, is like winning a world.
Focus on positivity and futuristic approach is enabling him to dream bigger and achieve more.
With his keen business acumen, purpose and people orientation, Subhash Shingate is leading the Tej Group towards a brighter and sustainable future.
THE QUEST FOR EXCELLENCE
Committed towards Quality, Innovation and
Customer delight.
We have our partners situated across the globe. Our corporate headquarter is located in Pune, Maharashtra, (Republic of India). Tej Group is well-known for its diverse offering in the field of MEP Systems & Services, Information Technology and Organic Farming.
It has been a quality oriented decade of growth and expansion wherein, Tej Group has forayed in the field of Mechanical, Electrical & Plumbing through its MEP wing, namely TSI MEP (I) Pvt. Ltd, and today it is a full-fledged MEP Solution Provider.
TSI MEP (I) Pvt. Ltd. is one of the leading MEP Contractors operating in MEP sectors, and is capable of offering full range of Engineering Solutions & Services in the fields of Fire Protection & Detection, Electrical, Lighting, Electro-Mechanical (MEP), Low Voltage, High Voltage, Safety & Security, Drainage, Plumbing, Pipe lines & Fittings, HVAC systems, Ducting, Chillers etc….
Our Business Verticals (Our Journey…)
TEJFIRE SAFETY INDIA PVT. LTD. (2007)
TSI MEP (I) PVT. LTD. (2014)
TEJ IT SOLUTIONS INDIA PVT. LTD. (2015)
TEJ AGROTECH INDIA PVT. LTD. (2018)
Dedicated teams for each activity, such as Sales & Marketing, Design, Estimation, Project Management & Execution, Quality, Safety, Procurement etc is our primary strength. The visionary leadership of our mentor, Subhash Shingate and his profound industry experience and knowledge has and is consistently taking the Group ahead towards better future.
ABOUT US
Tej Group has a self-sustained business vertical in MEP Systems & Services. It handles prestigious MEP Turnkey Projects at PAN India level. The Group is also into high quality Fire Fighting System Consultancy, Safety Audits and Safety Trainings.
Our excellence, accuracy and human centric approach has been our strength and have been honored too. Our Achievement includes the "Platinum Award" in Construction Sector for Outstanding Occupational Health & Safety Management by "Apex India Foundation" in 2020. It is a point of pride for us and we are aware of the responsibility too. Safety has always been and will be our first priority.
As a quality centric organization and considering the stringent international quality standards, we source only quality assured products from genuine pre-qualified vendors. Our quality control experts visit vendors' premises to watch their production process and make certain that only excellent quality products are delivered to our clients.
" Ethical Business Policies and transparent deals have earned us immense customer trust."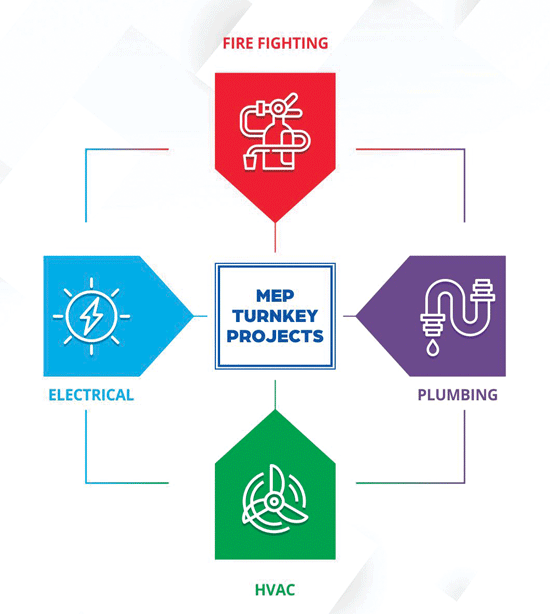 We firmly believe in the significance of Healthy and Safe working practices of our employees, as it forms the fundamental part of the effectiveness and efficiency of our management. Furthermore, as an organization and an employer, we do acknowledge our commitment, so far as is reasonably in ensuring the Health and Safety of our employees, public health and not to endanger our environment.
An Array of Advantages
Project construction schedules strategically planned by Planning Department
Comprehensive experience in handling complicated projects including MSMO Pump System, High Rise Building etc.
Expert management teams focused on design, review and implementation
Highly qualified Managers/ Supervisors with expertise in documentation, project and data control processes
Excellent implementation of the Project Safety Plan, rules, regulations and conduct of Safety Training Programs
Well executed Project Quality Plan (PQP)
Evaluation of potential suppliers for best in class materials suitable for technical specifications
Extensive use of multi-user, multi-project, server-based ERP software
200+ prestigious clients
Commitment to quality management system for continuous improvement.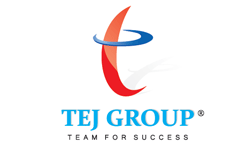 For more information
www.tejgroup.in