ZKTeco Provides Integrated Solution for Entrance Control Management & Door Access System to Navratna Business Park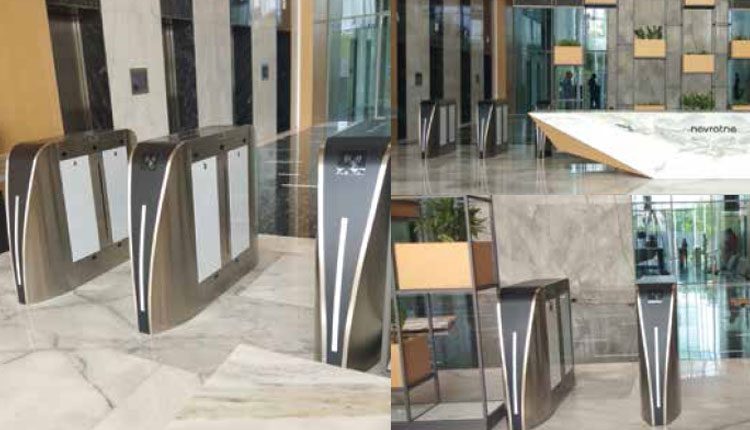 OVERVIEW
Navratna Corporate Park is the latest entrant to Navratna Group's portfolio of creating world-class retail and work spaces. Standing proudly at Ambli-Bopal BRTS Corridor, one of the largest Commercial Development of Gujarat is set to become an enviable corporate landscape that will need no introduction. A modern and efficient space designed to portray an aesthetically-appealing charm with grand reception and atrium area, truly defining modern corporate culture.
CHALLENGE:
As a newly developing business park empire, Navratna Corporate Park had the responsibility to provide a secure at the same time user-friendly access to the working staff members and visitors. Regarding this, they wanted high-level security systems to be placed at entry points of the business park to confront unauthorized access, external intrusions and theft incidents. Another necessity was that all the entry points and doors to be controlled by a single system for centralized monitoring.
Requirements:
Powerful Entrance Control Solution to meet the security requirements of Navratna business park, while ensuring elegant look so as to blend with the interior design of the business park.
Implementation of reliable and secure access to individuals visiting the corporate park in all aspects including uninterrupted exit to safe place during emergency.
Limited access to basement parking facility, so that only authorized people can enter inside the business park from the basement.
A unified software solution to monitor and control the operations at entry and access control sites.
All the requirements to be expandable, precise and user friendly with cost effectiveness.
SOLUTION:
With a series of detailed consultation held with the Navratna Corporate admiration, we provided our latest and highly advanced Entrance Control Solution comprising of FBL300, FBL320 & SBT2000S Barriers embedded with C3 Controllers and KR600E Series Readers. The collective systems enhance security by which only individuals with Card Authentication could enter inside the premises. As for the basement parking facility, MiniAC Standalone Access Control Terminals with Door Lock System were installed to prevent outsiders entering the Business Park through basement parking.
SOLUTION COMPONENTS:
S.No
Model
Type of Product
Solution
Units
Entrance Control Solution
1
FBL300
Single-Lane Flap Barrier
Entrance Control
4 Units
2
FBL320
Dual-Lane Flap Barrier
Entrance Control
8 Units
3
SBT2000S
Single-Lane Swing Barrier
Entrance Control
4 Units
4
C3200
Controller
Access Control
16 Units
5
KR600E
Wiegand Card Reader
Card Access
32 Units
Door Access Solution
6
MiniAC
Multi-Biometric Terminal
Access Control
20 Units
7
EM Lock
Accessories
Door Lock System
20 Units
8
Exit Switch
Accessories
Door Lock System
20 Units
10
ZKBioSecurity
Security Software
Door Access
40 Door Licence
RESULTS:
Security of Navratna Corporate Park was enforced with reliable and stylish Entrance Control System.
Security of basement parking area has been improved with Multi-Biometric Access Control System with User Mask Detection function.
ZKBioSecurity, All-in-One Solution, for unified monitoring.