Matrix Comsec : Technology evolution through coherent innovation
Q. Take us through the journey of MATRIX in India and the company's current operations.
Like most technology startups, Matrix, too, had a humble beginning. Founded by two Computer Science Engineers in 1991, Matrix started its journey as a product company with a single product and a single employee. With ambition of designing, manufacturing and marketing its own products worldwide,we designed PBX as the first product and started selling in Gujarat. With time, we expanded our product portfolio, markets, people and infrastructure.After few years, we started offering complete range of PBXs and added Media Gateways.
We were always looking for growth opportunities by offering more solutions to the same enterprise customers. Moreover, most customers, SI and distributors prefer relying on a single OEM for their Telecom and Security needs. Therefore, adding physical Security solutions made a perfect sense because this offered adjacencies on three dimensions – Technologies, Distribution Network and Customers.
With this strategy, we added biometric solutions for Time-Attendance and Access Control applications in the year 2007. Having entered Security domain, adding IP Video Surveillance was a logical expansion.We started working on IP Cameras, Network Video Recorders and Video Management System in 2010.
Matrix's journey spanning over 25 years has achieved numerous milestones:
• Growing from 1 Employee to 700+ Organization
• Winning trust of 1 Million+ Customers
• Creating a network of 2,500+ System Integrators trusting and selling Matrix solutions worldwide
• Taking Matrix products to 50+ countries including USA, Canada, UK, Italy, Portugal, Spain, Australia, Thailand, Vietnam, Philippines, UAE, Saudi Arabia,South Africa and many others.
• Designing 60+ innovative differentiated products meeting Video Surveillance, Access Control, Time attendance and Telecom needs of modern organizations.
• Matrix products winning international awards for design & aesthetics such as iF Germany, Red Dot Singapore, GOOD Design Japan & India Design Mark.
Q. Tell us about your focus on innovation and R&D activities?
Matrix is one of very few indigenous R&D companies having independent product designing capabilities in hardware, embedded software, applications software, mobile applications and mechanical engineering. With more than 40% of the total manpower dedicated to development of new products, Matrix R&D is the foundation of our growth and sustenance. Matrix R&D is strong in its capabilities, processes and infrastructure to design world-class products conforming to all relevant international standards.
With its independent Research and Development, Matrix's primary focus is to develop solutions equipped with cutting-edge technologies and deliver preventive security along with higher productivity. Matrix products from all three domains can be integrated with each other. Matrix products can also be integrated with many third party solutions already deployed in an organisation. This protects existing as well as future investments. Matrix solutions cater to large and small enterprises across various industries including Manufacturing, Logistics, BFSI, Healthcare, Hospitality, Education, Government, Defence, etc.
Q. In your view, what are the market requirements that are driving the usage of security & access control systems? What opportunities is MATRIX sensing in these segments?
Security solutions are evolving from age old bulk centralized panels to distributed architecture using IP-based intelligent controllers. IP, Wireless, Mobility and Cloud are the technology trends driving innovation. More and more solutions are moving to IP and offer wireless connectivity. As bandwidth bottlenecks are being removed, enterprise applications are moving to the Cloud eliminating customer premise hardware, servers,and software. The need for automating security and enhancing productivity by smart identification features is gaining popularity.
Security market is receiving unprecedented attention nowadays and has become a more active industry than ever before. If we include various commercial applications and solutions, the Security and Video Surveillance market in India is about Rs. 8,000 crore per annum and is expected to grow at 18% CAGR between 2017 and 2020. Let us talk about biometric technologies. There are many biometric technologies available in the market, but each technology has its pros and cons. While selecting any new biometric technology people are concerned about various parameters depending on their applications. They consider the type of security it provides, ease of use, speed of identification and verification, if physical touch required or not, false acceptance and rejection ratio, total cost of the product, usage environment and finally, its life.
In India, biometrics is gradually becoming popular. However, a large percentage of people, due to lack of awareness about the benefits of biometrics, are still using old swipe cards, RFID cards and PIN technology for security and identification purposes. Apart from this, some people find it too expensive to deploy, not reliable enough, difficult to integrate with other systems and face internal resistance to change. Biometric is a complex technology but when supported by new services and robust processes, this technology can lead to profound improvements in productivity and compliance. Moving forward, various organizations in India, both private and public sector, are expected to embed biometrics in their security solutions.
Video Surveillance is evolving from the age-old, analog, hardware centric products to IP, software-centric and wireless solutions. Software applications are web based and they support mobile applications. Camera resolution is increasing and so is the coding technology from H.264 to H.265. Mobility and Cloud are other two technology
trends driving innovation. As bandwidth bottlenecks are being removed enterprise applications are moving to the Cloud eliminating customer-premise hardware, servers and software. Finally, new-generation Intelligent Video Analytics (IVA) algorithms on Deep Learning help automate many manual processes and create new functions and applications.
Q. Please update us on MATRIX's security solutions and key industry segments it caters to?
Matrix is focused on three technology domains -IP Video Surveillance, People Mobility Management (Access Control, Time-Attendance, Visitor Management,etc.) and Unified Communication -Collaboration. All these solutions are targeted at the same customers -modern organization. Matrix Security and Telecom solutions are targeted at multi-location enterprises, SMEs and SMBs.
In Video Surveillance domain, we have launched Matrix PARAM series of Network Video Recorders (8 to 64 channels) with 4K, H.265, RAID 10,Cascading and many other innovative features. We are also introducing enterprise-grade 5MP, 3MP and 2MP IP Cameras in bullet and dome packages.In People Mobility Management domain, we have launched VYOM – Cloud version COSEC CENTRA server meeting requirements of all Access Control, Time-Attendance, Visitor Management and other applications.
We have also launched Face Recognition technology and devices. In addition, few more IP controllers and devices
with new-generation identification technologies are in the pipeline. Overall, Matrix is focused on new generation technologies such as Video Analytics, AI,
Deep Learning, Cloud, IoT, etc. We are busy developing leading technologies and solutions and taking them to the international and domestic markets. It is a journey we started 25 years ago and are enjoying it so far. We are investing in our people, processes, products, infrastructure, and culture to build a world class organization.
Q. Please comment of the challenges in your segment with respect to India market.
Let us start with indigenous R&D. Indian industry is dependent on external R&D and technologies. The industry and government should work together to correct this by promoting indigenous R&D. Second is lack of domestic manufacturing. While India is one of the largest markets in the world, we lack manufacturing ecosystem of material, components and equipment manufacturers in India. Sadly, India has become a virtual dumping ground for imported products. Obviously, this situation is not sustainable.
Third is lack of awareness. Today, security products are sold as boxes without customers knowing overall impact and benefits on their businesses. Many customers mistakenly equate products with solutions to their existing problems. I believe higher customer awareness and better responsibility on part of the manufacturers and the system integrators would improve customer satisfaction.Finally, I would add the common point of economic growth. Like all other industries, security and telecom equipment business is tightly linked to the overall economy.
Q. Tell us about MATRIX solutions with respect to AI and Industry 4.0. Are Indian companies showing readiness to adopt these advanced technologies and solutions?
MATRIX COSEC VYOM is a People Mobility Management solution, based on cloud technology that allows users to use application, hardware and infrastructure as a service. Cloud based Time-Attendance, Access Control, Cafeteria Management, Visitor Management, Contract Worker etc. addresses solutions to the outlined issues of productivity, security and efficiency by providing ubiquitous, cost-effective, secure and on-demand network access.
Smartly designed COSEC VYOM helps different sized businesses achieve more productivity and security. This cloud based time clock system is a modern age solution providing opportunities to use Software, Data and Services over the internet from any location on any internet enabled device. COSEC VYOM is Software as a Service, which can be used by small, medium & large enterprises to keep a check on productivity and security of the organization.
High cost of a server, the cost of securing it and complicated installation process totally gets eliminated. COSEC VYOM is hosted at SOC2 Type II, Tier 3 Data Centers, ensures proper data handling and scheduled back-up at regular intervals which lead to a secure and risk free environment. It incurs free updates on a regular basis, keeping the clients always up to date.
The only medium of connection between the on-premise device and the cloud is internet, in case of an unavailability of network, devices on premise store all the activities and it is transferred to the cloud as and when the connection is re-established. This way, all the data gets pushed into the cloud. Though,
COSEC VYOM is a cloud based solution, it supports desktop applications and also allows integration with Third Party Desktop Applications. Matrix delivers COSEC VYOM with a modular pricing structure applicable on per user level. Client needs to pay on a regular basis for only the number of users/employees using the system. The monthly cost per employee of getting all of these features without the hassle of infrastructure management comes at a nominal cost equivalent to just one cup of tea/coffee for an employee.
Q. In your view, are government initiatives like Digital India and Make in India triggering growth in the security & access control segment?
Yes, the government initiatives are making huge impact on the security industry in India. In addition to building wide-spared awareness and acceptance,Digital India is creating market for security hardware, software and services. Make in India, on the other hand, is very effective in promoting domestic manufacturing of security and telecom equipment.Today, many mobile and security equipment companies have already established their manufacturing
operations in India. Further, GST has unified multiple taxes and integrated India into a single market simplifying movement of goods and services across the country and bringing huge efficiency dividends. Similarly, government policies on export promotion encourage companies to invest & develop export business from India. Having said the above, we have a long way to go before we catch up with other countries running ahead of us with significant lead in electronic manufacturing.
Q. What are the future growth prospects of security & access control products market in India?
The Indian Security Market has witnessed substantial growth during the last five years. Security solutions are evolving from age old bulk centralized panels to distributed architecture using IP based intelligent controllers. Indian security industry is rapidly shifting to IP video surveillance from the conventional analog surveillance methods. With respect to access control, the traditional RFID technology is gradually being replaced with advanced biometric technologies and Cloud applications. Furthermore, the solutions provided allow organizations to manage their data from a centralized location. Moving beyond large organizations in metropolitan areas, awareness about the benefits of security solutions is growing rapidly among the tier-I, tier-II and tier-III cities and smaller organizations. This is sure to expand demand for security solutions, in turn giving a boost to the security market.
No wonder, the Indian security industry is passing through an exciting phase with revolutionary changes in technology, launch of innovative products, and the challenge of global competition. If we include various commercial applications and solutions, the Security and Video Surveillance market in India is about Rs 7,000 crore per annum and is expected to grow at 18% CAGR between 2017 and 2020.
Q. Comment on MATRIX's growth strategy and vision in the coming years.
Matrix business is driven by mainly two prime movers: cutting-edge products and market reach. With this simple understanding, we are focusing on creating world-class products in Security and Telecom domains. We are innovating and building cuttingedge, products by investing in R&D. Simultaneously, we are also building a channel network to expand market reach and take Matrix to all the targeted markets by investing in marketing, sales and support. Video Surveillance and People Mobility Management markets are growing rapidly, and Matrix is a relatively new player with a plenty of headroom to grow.
Second, we are also introducing cutting-edge, well-differentiated new products this year. Third, we are expanding our channel network by appointing system integrators in all the important markets in India and overseas. Last, we are working closely with customers to increase visibility and trust on Matrix products and services. We are on a mission to build and offer cutting-edge, high-performance Security and Telecom solutions to modern organizations across the world.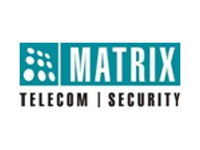 Share feedback and join the discussion on the Telegram Group
https://t.me/joinchat/KMczvFV0Qq7t9opGlSoVkw