Minimax Fire Division, Gunnebo India – The pioneer of Fire Safety in India
The Gunnebo Group with its headquarters in Gothenburg, Sweden, is a global leader in security offering innovative products and services. Gunnebo operates worldwide, employing more than 3,300 employees in 25 countries and 8 production facilities across the globe to serve customers in nearly 115 markets. The Fire Products Business under the Minimax brand which was established in India with its headquarters at Kolkatta way back in 1903, became a part of the Gunnebo portfolio in India with the acquisition of Steelage in the year 2000. The Minimax Division of Gunnebo India Ltd. today caters to the Indian market, with a comprehensive range of Fire Products manufactured at its factory in Halol, Gujarat and is the most preferred brand trusted for its quality, reliability and strong pan India presence, discovers Industrial Safety Review in an exclusive interview with Johnson Mathew, Vice President – Minimax Fire Division, Gunnebo India. Excerpts:
Q. We understand Gunnebo has a heritage going back to some 250 years! We are eager to have a peep into the checkered history of the company and the evolution of its Minimax Division. Could you narrate?
Gunnebo's heritage stretches back to the 17th century when a forge factory was established in a locality named Gunnebo in Sweden, which grew to become Gunnebo Industries. Expanding over the years with more than 40 acquisitions, the Gunnebo Group with its headquarters in Gothenburg, Sweden, today is a global leader in security offering innovative products and services. Gunnebo operates worldwide, employing more than 3,300 employees in 25 country locations and 8 production facilities across the globe to serve customers in nearly 115 markets.
The Fire Products Business under the Minimax brand name which was established in India with its headquarters at Kolkatta, way back in 1903 became a part of the Gunnebo Portfolio in India with the acquisition of Steelage in year 2000.
Minimax Division of Gunnebo India Ltd today caters to the Indian market, with a comprehensive range of Fire Products manufactured at its factory in Halol, Gujarat and is the most preferred brand trusted for its quality, reliability & strong pan India presence.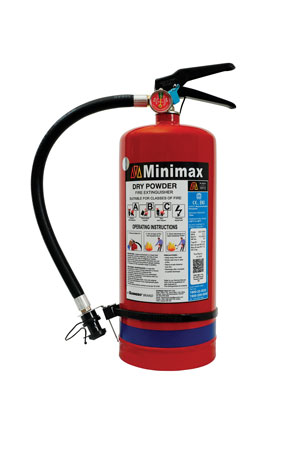 Q. It is painful to see that fire incidents are hitting the headlines virtually every day. How can we mitigate such disasters in the country, especially ones which cost lives?
The pain that we feel while reading about the fire incidents is nothing compared to the horror the people who actually experience it go through. The saddest part is that most of us tend to forget the incident in a short time and get busy in our daily schedules without giving a thought on assessing fire risks around us and taking action to mitigate them. The first and foremost requirement in mitigating fire incidents is to create awareness.
Majority of the fire incidents around us started off as a small fire and grew to become a devastating fire causing damage till the time it could be brought under control by the Fire Brigade. Such incidents could very well have been averted by extinguishing the fire at its incipient stage using a small Fire Extinguisher.
This is why we stress the importance of having a reliable Fire Extinguisher at hand. Creating awareness so that individuals realize the importance of assessing the risks in their homes and workplaces would to an extent enable preventing most of the common incidents that hit the headlines.
However it is also necessary to ensure that proper Fire Fighting Systems are installed in every premises and regular checks carried out to ensure the systems are in proper working condition.
Q. What have you to comment on the prevailing regulatory norms and the compliance thereto?
The initiatives from the authorities in updating current regulations and devising new guidelines and norms is highly appreciated. Today we have the National Building Code as well as standards laid down by the Bureau of Indian Standards. The guidelines and standards are regularly being updated to ensure safety and security of the public. It is quite recently that a notification has been issued by the Ministry of Commerce and Industry making ISI mark mandatory for all Fire Extinguishers which is a major step to control the low quality products in the market which itself could otherwise become a safety concern. Though we have the necessary norms in place the enforcement is the biggest challenge in the current context especially when it comes to old buildings and rural areas.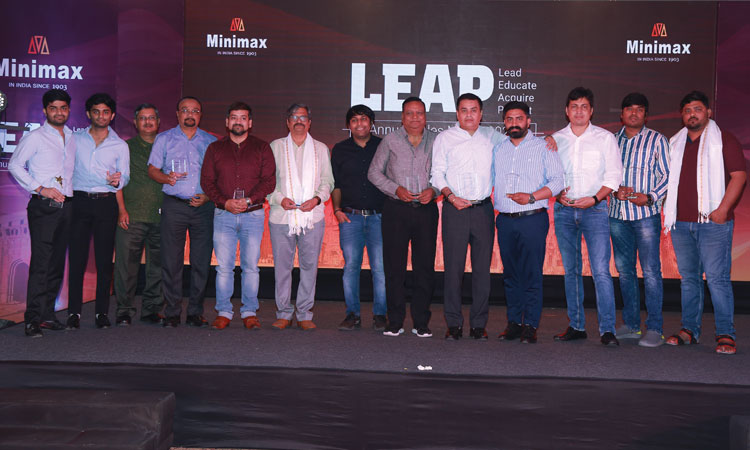 Q. Being in the business of safety and security, what are your initiatives in educating the industry and the public on fire hazards and how to preempt fire outbreak?
As the pioneers in Fire Protection in India and a leader in this Industry, we take it as our responsibility to educate the public about fire risks and mitigation actions. We use the digital media which helps us reach out to the masses and sharing knowledge on maintaining a safe environment, identifying and mitigating risks, selecting the right product based on application, responding to a fire incident etc. We provide expert technical support to various organizations to help them promote fire safety awareness as part of their initiatives in addition to conducting seminars and training programs ourselves.
Effective education about fire hazards and prevention is an ongoing effort. It requires a combination of proactive initiatives, collaboration with relevant stakeholders, and the use of various communication channels to reach both industry professionals and the public.
Q. Minimax is a pioneer in Fire Extinguishers. What are the different types of fire extinguishers you offer?
Minimax's offering in the Fire extinguisher range includes Portable, Ceiling mounted and Trolley Mounted Type fire extinguishers which are available with various types of Powder, Clean Agent, Carbon Dioxide, Water, Foam or Wet Chemical for use in kitchen as the extinguishing media.
All our Portable and Mobile Fire extinguishers comes with the ISI mark from Bureau of Indian Standards, Some of the additional certifications available are EN, CE as well as approval from the Indian Registrar of Shipping (IRS) for relevant products. We also have products carrying the UL and FM marks in our basket.
It's important for businesses and organizations to choose the right type of fire extinguisher based on their specific fire risks and the nature of their facilities. Minimax's comprehensive range of fire extinguishers, with various extinguishing media and mounting options, provides flexibility to address a wide range of fire hazards.
Q. Many a time, kitchen is the starting point of a fire. What are the innovative solutions you offer to suppress the fire emanating from a commercial kitchen?
Given the high risk of fires in kitchens, especially those involving cooking oils, a well-designed and properly maintained kitchen hood fire suppression system is crucial for the safety of the commercial or industrial kitchens and its occupants. Our GILPRO instaproteKt Kitchen hood fire suppression system is an ideal solution specifically designed to protect areas associated with kitchen ventilation equipment including hoods, ducts, plenums, and filters installed in industrial and commercial kitchens. This system designed to detect fires early, minimize damage, and protect both the property and the people working in the kitchen. The system is suitable for installation in kitchens associated with restaurants, hospitals, nursing homes, hotels, schools, airports, and even industrial kitchens.
We are proud to say that we have in our portfolio the most advanced system conceptualized and developed by us inhouse, involving heat detectors and PLC based control panel which is the first of its kind in the Industry. Each control panel has the capability to support multiple systems and hence becomes the ideal choice for large kitchens.
Q. You also offer automatic fire protection systems to safeguard rooms and panels. How do they function? Could you elaborate?
Almost all the commercial and industrial sites have electrical panels and cabinets installed in the premises. Any loose connections, overloaded circuits, component failure, or a fatigued electrical wiring, can lead to an unprecedented fire in these panels or cabinets which not only can lead to heavy downtime and huge commercial impacts but also risk to the life of the personnel in the vicinity. Our FIRESPOT® Panel Protection System is a self-actuating fire suppression system for such enclosed cabinets. This pre-engineered system consists of a clean agent cylinder containing UL Listed Grenoz Clean agent and a UL Listed heat sensing tube which ruptures at the spot where fire occurs and releases the clean agent at the point where the fire is detected thereby ensuring suppression of the fire before it spreads.
We also have a pre engineered Room Protection System with ceiling mounted modular units containing the UL Listed Grenoz Clean agent which releases automatically when a fire is detected by the fire detection system. This is an ideal solution for unmanned rooms where manual intervention at early stages of fire is not possible.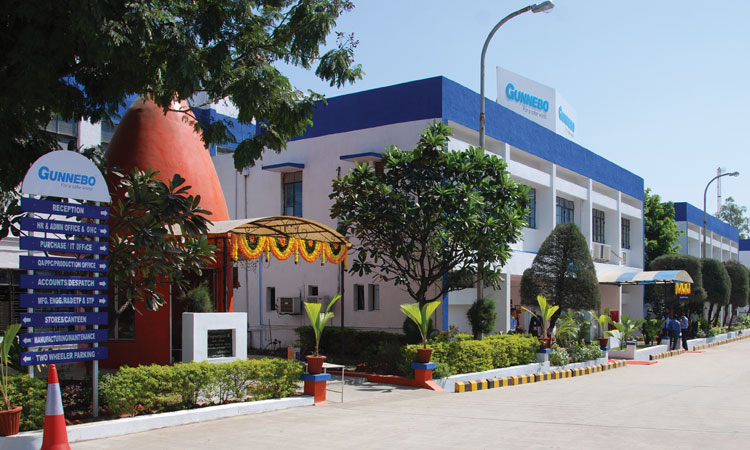 Q. Please shed some light on your manufacturing facilities, QC regime and quality benchmarks.
Gunnebo's factory in India is located in a 50,000 SqMeter facility at Halol, Gujarat and it is among 8 factories of Gunnebo worldwide. The Halol factory manufactures physical security and fire safety products of Gunnebo not only for the Indian market but also for export and carries the ISO9001 Quality Certification, ISO 14001 Environmental Certification and OHSAS 18001 certification.
Gunnebo Halol factory is guided by the global standards set by the Gunnebo group and follows the highly efficient Gunnebo Operations System (GOS) which focuses on quality, delivery, cost, use of resources, health & safety and securing employee commitment to drive continuous improvement and bring value to the customers. The factory complex also houses a fully equipped lab and fire room to support continuous development and ensuring consistent quality.
Q. How do you ensure sustainability of your products and processes to minimize carbon footprint?
In a world of constant and sometimes turbulent change, a common thread runs through everything we do at Gunnebo – the pursuit of our sustainability agenda. For successful organizations to remain relevant to customers, employees and other stakeholders, consistent effort on sustainability is vital. The Group is committed to creating a sustainable and ethical business which strives to minimize its impact on the environment. As part of our sustainability approach we strive to be a climate neutral business with focus at own operations and Optimize use of virgin material, water, waste and chemicals. The clear proof of our commitment towards sustainability is the fact that Gunnebo has raised its sustainability rating by more than 50% in just one year with EcoVadis, a sustainability comparison platform founded in 2007, which has grown to become the world's largest and most trusted provider of business sustainability ratings, creating a global network of more than 100,000 rated companies.
One achievement worth mentioning at this juncture is the launch of Grenoz by Gunnebo India, a clean agent which has an atmospheric lifetime of less than a week compared to the widely used HFC's which are also classified as restricted for import by DGFT.
The success of Grenoz, with all major corporates having focus on sustainability shifting to Grenoz from HFC's offered by other competitors has lead to Gunnebo India completely stopping the import of HFC's since 2023.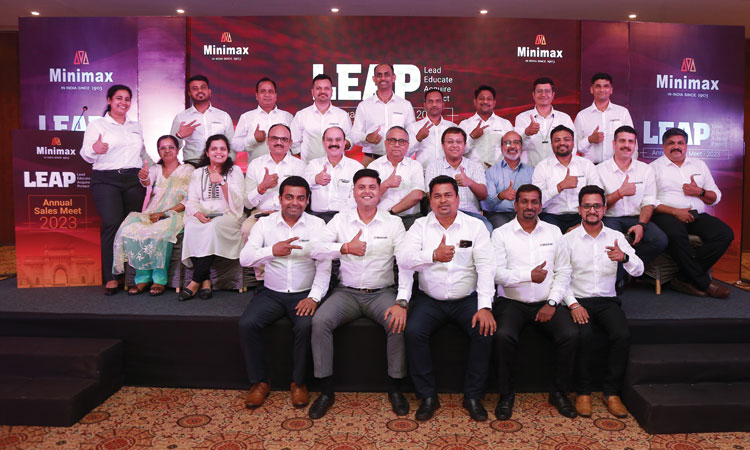 Q. What are your growth strategies for Minimax and how do you envision its future prospects?
Every business develops growth strategies which broadly can be classified under Product, Customer or Market. For Minimax Business it is necessary to have an understanding of the position that Minimax has in the minds of people rather than the position the business has in relation to local competition. Minimax is a brand which is known for maintaining highest level of reliability even if it meant a higher cost when the market moved towards price reduction to acquire more business. We believe that life is priceless and protecting ones life is most important than investing in cheap quality and saving money.
We intend to grow our business purely by continuing to provide the highest level of protection to our esteemed customers, bringing in innovations that can further add value to our customers, managing our processes effectively and by maintaining highest level of quality in all our activities.
Our growth strategy revolves around creating awareness, reaching out to every individual, and every facility in our country and ensuring that we continue to deliver the products with the highest level of reliability that Minimax is renowned for.