Safety no longer an option, it has become an imperative
Q. Kimberly-Clark Professional is a leader in PPE. Could you share some of your milestones & achievements?
Kimberly-Clark ProfessionalTM is part of Kimberly-Clark Corporation, a US$ 19 Bn multinational corporation. Kimberly-Clark is celebrating 150 years of its existence this year. The organization operates in 175 countries across the globe and has a leading market share in 80 countries. It has been a long journey and the company has been the pioneer in multiple product domains like world's first Sanitary Napkin (Kotex), world's first Facial Tissue (Kleenex) and world's first Disposable Training Pants (Huggies). More recently, our wiper product brand WypAll® has been recognized by The Economic Times Emerging Consumer Brands 2020 platform.
Q. What precisely is your niche?
Kimberly-Clark ProfessionalTM is into personal care, hygiene and safety solutions.
At Kimberly-Clark Professional™, we create full-service solutions tailored to your needs and leverage our unmatched portfolio of trusted brands to elevate the way people experience your business and what it stands for.
Q. Could you portray your product portfolio?
Our product portfolio includes:
Hygiene And Contamination Control
We deliver leading-edge hygiene and cleaning solutions for the workplace and washroom from trusted global brands such as KLEENEX®, SCOTT®, etc.
Personal Safety (PPE)
Our range of ergonomically designed PPE solutions and diverse market-leading safety products including Apparels, Gloves, Eyewear & Masks. KLEENGUARDTM and KIMTECHTM products are so comfortable that they encourage the wearer to get the job done more safely and efficiently.
Wiping
We are a leader in industrial and scientific wiping market, offering wiping solutions that reduce the risk of cross-contamination and drive productivity across industries. We provide WYPALL® Wipers for use in manufacturing
environments for clean, consistent performance; and KIMTECHTM Wipers for delicate and critical wiping in labs, as well as other controlled environments.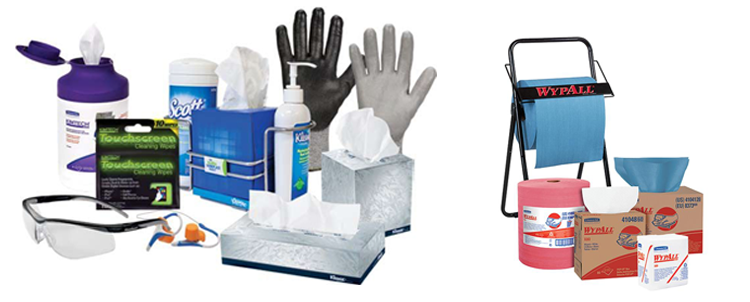 Q. Please share details of the key products you introduced recently. And any new products in the anvil?
I believe, as a consequence of the pandemic, the industry is witnessing one of the biggest paradigm shifts in recent times. I foresee this leading to much more concrete SOPs of self-sanitization, more systems coming into place for equipment disinfection, etc. The health of the workforce should and will assume an even higher position in the priorities of the organization. As a responsible industry leader in safety and hygiene products, we plan to encourage and promote this habit by introducing more innovative products.
We have been ramping up our product portfolio while keeping the market needs in mind – both for the present and future. I am also very excited about our new launches in Scientific & Safety PPE, N95 respirators, Safety Apparels, skincare and specialized wiping offerings.
Q. What are your strategies to improve the position of Kimberly-Clark Professional in the Indian & global markets?
The importance of maintaining personal hygiene has been highlighted in all the guidelines issued by the WHO as well as by national, state and local governing bodies. I feel it will be eventually ingrained in the psyche of the Indian populace and may not have to be necessarily forced like the earlier top down approach in organizations. I am hopeful of a much more hygiene conscious society, where personal hygiene and safety is a personal choice and not an obligatory part of a 'SOP set by the management'.
Q. What are the major factors affecting your business?
As compared to the more developed countries, India is still quite a distance away on maintaining good hygiene and safety practices for the workforce and generally too. Sadly cost still takes precedence over safety and hygiene in most facilities. We still don't understand that 'Hygiene will come at a cost'. However, this is expected to change for the better post pandemic, and as a society it is our duty to percolate it to the grass root level. This habit needs to be developed in the densely populated areas, rural areas and even the slums of urban areas.
Q. What are the key technology trends that are driving the personal protection industry?
The pandemic has raised consciousness about the importance of quality in Personal Protection Equipment (PPE) industry. Many customers now understand the issues involved with reusable PPE like laundered garments as they significantly compromise the safety of the wearer and hence there is a shift towards disposable garments. Hopefully, this trend will become stronger in the coming months.
Q. What is your vision for Kimberly-Clark Professional?
Kimberly-Clark Professional™ partners with their customers to create exceptional workplaces, making them healthier, safer and more productive. We create full-service solutions tailored to our customers' needs and leverage our unmatched portfolio of trusted brands to elevate the way people experience your business and what it stands for. Our brands including Kleenex®, Scott®, WypAll®, Kimtech™ and KleenGuard™ help you make an impact on the people who matter most to you.
I am a firm believer of the 'Make in India' philosophy. Over the last few years, we have localized the production of many of our products and it has really helped us cater to our customers' needs efficiently and effectively. Most of our paper products are sourced and packed locally. Other products like wipers are imported in bulk form and converted into finished goods in India. We are supported by a converting facility dedicated for our products in Chakan (Pune) in addition to which we have two distribution centers in Pune and Bangalore.
Apart from providing these solutions, we also foster deep engagement with customers with our holistic training programs, awareness initiatives, reliable after-sales support, robust certifications and claims support for audit purposes. We do a lot of activation and awareness programs in offices and production facilities all over India to promote hand hygiene, specialized wiping solutions and professionally designed protective coveralls to help them create safer, hygienic, and more productive workplaces.