Global leadership in security and telecom solutions, Matrix Comsec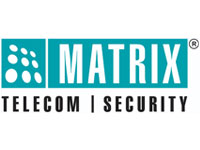 Matrix is a leader in providing Security and Telecom solutions for modern organizations. The company offers a comprehensive range of solutions for IP Video Surveillance, Access Control, Time-Attendance, and Telecom applications. In an interaction with IHSR, Ganesh Jivani-CEO, Matrix Comsec detours us through his company's R & D efforts, quality obsession, product innovations and its vision become a world leader in offering technologically advanced security & telecom solutions.  Excerpts:
Q. Could you brief us about the overall business activities of your company?
Established in 1991, Matrix is a leader in providing Security and Telecom solutions for modern organizations. Matrix offers a comprehensive range of solutions for IP Video Surveillance, Access Control, Time-Attendance, and Telecom applications.
Matrix leverages technology and innovation to meet the requirements of the customers and delight them with its solutions. Our R&D Center has been certified by the Department of Scientific and Industrial Research (DSIR). Forty percent of our human resources are dedicated to research and development, and this helps us keep pace with the revolutions in the Security and Telecom sector.
With its independent Research and Development, Matrix's primary focus is to develop security solutions that are proactive and can help avert incidents from happening. Matrix solutions cater to large and small enterprises across various industries including Manufacturing, Logistics, BFSI, Healthcare, Hospitality, Education, Government, Defense, etc.
Matrix offers its products in Asia, Europe, North America, South America, and Africa through an extensive network of more than 2,500 channel partners. Matrix has gained the trust and admiration of customers representing the entire spectrum of industries. Matrix has won many international awards for its innovative products.
Matrix's indigenous facility houses various functions like – R&D, Sales, Marketing, Manufacturing, and Technical Support. We take pride in being one of the few companies which are true to the essence of "Make in India" which means, we create market-driven products right from conception to research, design, development, and distribution, and after-sales support.
Q. Could you elaborate your product portfolio & its applications?
Matrix started off by providing telecom solutions for MSMEs and large enterprises. After gaining prominence in the telecom sector, we gradually added security solutions to our portfolio. We are one of the few companies offering a comprehensive range of solutions for IP Video Surveillance, Access Control, Time-Attendance, and Telecom applications – all under one roof.
Matrix SATATYA provides multidimensional security to make office premises secure. The solution comprises Video Management System (VMS), Network Video Recorders (NVRs), and IP Cameras,for comprehensive video surveillance. Depending on the organization's requirement, corporates can opt for complex solutions like Parking Management, Weighbridge Integration, Command & Control, and many more. Our solution experts understand the nuances of various industries and can design customized solutions to meet their requirements.
Matrix COSEC is an enterprise-grade People Mobility Management solution for organizations covering Time-Attendance, Access Control, Visitor Management, Employee Self Service, Cafeteria Management, and Contract Workers Management. Matrix COSEC is an all-integrated solution including hardware devices and a suite of software application modules. Matrix COSEC delivers foolproof security and improves the productivity of organizations.
In TELECOM, Matrix specializes in providing end-to-end Communication solutions. Matrix Telecom's portfolio covers Unified Communications Servers, Hybrid Servers, IP-PBXs, Media Gateways, VoIP Terminals, and Mobile Applications. Matrix UC platforms are network-agnostic, flexible, scalable, and feature-rich.
Q. Which are the innovative products you introduced in the market recently? Any further launches in the anvil?
Matrix strives to give its clients a one-stop solution for all their surveillance requirements. Keeping this in mind our team tries to constantly add newer products and solutions to address the security-related challenges that enterprises face.
Recently launched enterprise-grade server-based turnkey video surveillance solution, the ENVR has garnered a lot of appreciation for its robust design, redundant power supplies, and server features. ENVR is highly flexible and scalable to integrate with various platforms. ENVR with its in-built VMS makes it possible to incorporate solutions like License plate recognition, Parking Management, and evidence-based weighbridge integration.
After its success with ENVR, Matrix has added 5MP PTZ cameras with 42x optical zoom for better coverage and high-resolution images of objects at a distance resulting in better situational awareness. Further, turret cameras with their unique ball and socket designs allow easy axis adjustment once they have been mounted.
Weighbridge integration is a solution developed for the logistics and warehousing industry to help them reduce pilferage and incorporate transparency into their day-to-day operations. Additionally,the parking management system ensures the optimization of parking spaces and helps prevent parking woes like improper parking, parking in reserved parking lots, and many more.
Q. Please give a brief account of your R&D activities and achievements.
Matrix is one of the few companies having in-house R&D facilities. True to the mission of "Make in India" we create products from conception to execution. We have independent product designing capabilities in hardware, embedded software, applications software, mobile applications, and mechanical engineering.
With more than 40% of the total manpower dedicated to the development of new products, Matrix R&D is the foundation of our growth and sustenance. Matrix R&D is strong in its capabilities, processes, and infrastructure to design world-class products conforming to all relevant international standards.
Q. May we know something about your quality policy?
Channel partners and customers are always looking for a better user experience at every stage of the customer buying cycle right from consideration to purchase to after-sales. Matrix strives to provide good quality products and services that are technologically advanced and address the customer's requirements.
Matrix is on a mission to deliver world-class Security and Telecom solutions through continuous improvements in technology and processes. We believe it is possible to design and build world-class technology solutions in India to meet the requirements of the domestic and international markets.
Q. What are your business prospects, and how do you see India as a potential market?
The rising crime rate and cyber security threat make it imperative for every organization to invest in upgrading their physical security. Having total control over who has access to your office premises and proactive surveillance systems which help you prevent crime from happening is the need of the hour.
Additionally, a robust telecom infrastructure for seamless communication in varied scenarios helps boost productivity. Clients are demanding a better user experience and technologically advanced solutions for their security and telecom needs. Finally, the Indian economy is growing at a steady pace. This growth is the result of irreversible urbanization and industrialization. Matrix is in complete sync with this Indian growth story. Recent years have also seen rising concern over data security and the need to limit dependency on Chinese products. All this makes Matrix products a safe and secure option for corporates for their telecom and security needs.
Q. What is your assessment of the market and its growth at home and abroad?
The physical security market is growing globally at a rapid pace due to the raising crime rate. Additionally, factors like the global pandemic led to a demand for contactless access control and seamless communicating solution for the staff working from home. Finally, there are local factors such as gun violence in the US and terrorist threats that could influence the need for physical security in various markets.
In terms of technology, there may not be any technological lags between developed, developing, and underdeveloped countries. However, there could be a difference in the awareness of the need for physical security solutions which influences the demand for the products in the respective markets.
While the global security market is projected to grow at the rate of 10.5% CAGR between 2022 – 2027* the growth rate of individual countries may vary. Further, certain regulatory and certification requirements always differ from one market to another. Matrix products meet all Indian and International Standards such as BIS, TEC, STQC, CE, FCC, ROHS, etc.
Q. What are your strategies to improve your company's position in the Indian & global markets?
Extensive research and development capabilities at Matrix enable us to research, design, and develop solutions that address the pain points of our end users. Our experts work relentlessly to ensure that every aspect of our product like the architecture, functions, features, and performance meets international and domestic standards.
Our robust network of over 2500 channel partners, spread across Europe, America, the Middle East, Africa, Asia, and Australia gives us a competitive edge in the marketplace. Our sales and marketing team works closely with them to ensure that the partners can reach out to the customers with solutions that meet their needs.
Our customers can rest assured of prompt 24x7x365 customer support to address the concerns of our customers, ensuring complete satisfaction to all our SI partners and end customers.
Q. What are the factors affecting your business?
Government policies and overall awareness about physical security needs deeply impact the security and telecom businesses in India and globally.
Q. What are the key technology trends that are driving the CCTV surveillance industry?
Technological innovations are rapidly changing the way we perceive security. From being just a web of CCTV cameras that were used to record suspicious activities video surveillance has become proactive and can help prevent crimes with timely action.
Effective integration with peripheral security devices and video management software can help develop advanced solutions like car parking management, weighbridge integration, and many more. Intuitive monitoring helps eliminate human errors and enables quick responses to suspicious activities.
The demand for high-resolution cameras has triggered the demand for storage solutions that help optimize storage costs by using technologies like adaptive streaming, and coding technologies like H.265. Finally, new-generation Intelligent Video Analytics (IVA) algorithms on Deep Learning help automate many manual processes and create newer functions and applications.
Q. What are the issues you need to address in the industry?
The security industry has come a long way from analog CCTV cameras and manual registers. Comprehensive video surveillance and access control and time attendance solutions are the order of the day. However, this is just the beginning, the security industry must go a long way and address pressing issues that it faces.
To begin with, it is imperative that we reduce our dependency on Chinese products and shift focus to "Make in India" products that are reliable and ensure better data security. Countries like the USA have even made it mandatory to use only NDAA-compliant cameras in Federal entities. Further, there is a lack of awareness about the role of security products in enhancing the productivity of the employees and keeping the assets and premises secure.
Finally, integrated security solutions like weighbridge integrations, car parking management, and POS integration can help resolve many challenges that various industries face today.
Q. What is your vision for Matrix Comsec?
Our vision is to become a world leader in providing technologically advanced Telecom and Security Solutions.