Q. NewAge is a formidable name in Fire Protection Equipment. Can we have some insights into your standing and niche?
NewAge® was founded in the year of 1960 at Surendranagar, Gujarat for the manufacture of Firefighting delivery hoses and various kinds of Firefighting equipment. NewAge® is our registered Trademark. Over the years we have had a meteoric growth, and we owe this to our world-class quality and time-tested products. Today our sprawling manufacturing facilities are spread over an area of 50,000 sq. mtr. at Surendranagar. And we have our regional offices in Pune, Ahmedabad, Delhi, Bangalore, Kolkata, Hyderabad, and Chennai, and an efficient network of channel partners assisting in our marketing throughout India and abroad. Thanks to our diligence and quality permeating our product lines and operations, today we are an undisputed leader in Fire hoses and Firefighting equipment in the sub-continent.
We have a large customer base nurtured over six decades. The list of our esteemed customers reads like a who's who of the Indian industry. NewAge has been supplying quality goods to organizations like Indian Oil Corporation, Bharat Petroleum, Hindustan Petroleum, Oil and Natural Gas Corporation, Port Trusts, Defense Establishments, Airport Authority of India, numerous Chemical Plants, Fertilizer Plants and other industries. We are an ISO‐9001:2015 certified company and our equipment and hoses are manufactured under license from the Bureau of Indian Standards. Our products also carry approvals from international certification organizations like UL, FM, BSI, etc.
We have a qualified and committed workforce of 500 people forming a major asset of our company. Our sales and service teams are strategically located to stay closer to our customers.
We have our footprints overseas as well. We have been exporting our products to more than 60 countries including countries in the Middle East, South East Asia and Africa, and also to technologically advanced countries like Italy, Germany, UK, Singapore, Thailand, Greece, Ireland, Canada, Australia and so on.
As a matter of fact, we have been a regular recipient of Export Excellence Awards from EEPC.
Having been in this field for more than 60 years now, we understand fire & safety like water and we have been constantly striving to provide the best of fire solutions to our customers.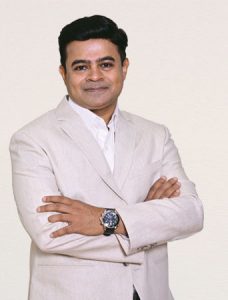 Q. Could you throw more light on your broad products & services spectrum?
NewAge today is the largest manufacturer of hoses in the whole of Asia after taking over Jayshree Textiles (a division of Indian Rayon Corporation, an Aditya Birla Group Company). NewAge covers a broad spectrum of products in firefighting including various types of hydrant valves, hydrant fittings, water monitors, foam equipment, nozzles, etc.
We manufacture various types of Fire Fighting Vehicles and Pumps. Besides our own range, NewAge brings you world-class Hydraulic Rescue Protection Products from Holmatro BV, The Netherlands. We also bring you a wide range of Cutters, a combination Tools, Rescue Rams and Power Units from the house of Holmatro.
We undertake fabrication work of Water Tenders, Water Bausers, Water Cannons, Foam Tenders, Multipurpose Tenders, DCP Tenders, Foam Nursers, Emergency Rescue Tenders, Special Purpose Fire Vehicles, Hazmat Vehicles, Small Fire Tenders, Trailer Fire Pumps, Portable Fire Pumps as well as Fire Fighting solutions. We take pride in saying that NewAge is the one and only company providing Fire Fighting vehicles laced with most of the firefighting equipment and accessories being manufactured under one roof as solutions from NewAge®. This plus point is not only beneficial to us but also to our customers and our business associates for effective and efficient after-sales service. We can also avoid the problem of interchangeability.
Q. Could you enlighten us on some of your pioneering products introduced in the market recently?
FM certified Hydrant with 16 bar working pressure/mm, UL Listed Foam Making Branch Pipes, and UL Listed Medium & High Velocity Water Spray Nozzles are some of the trendsetting products we introduced in the market very recently. We are the only company having facility to manufacture GRP Tanks in India. We have certain projects in pipeline.
Q. Tell us something about your R&D back-up and activities?
R & D is an on-going activity at NewAge and we keep on launching new Products.
NewAge is committed to continuous R & D to come up with innovative products and to improve existing ones. Unlike similar manufacturers, we are self‐reliant on research, design and manufacture, all the three activities being carried out in‐house, using advanced technologies and sophisticated equipment. It is this capability coupled with resourcefulness that gives us the necessary edge to be a trailblazer.
Q. Please elaborate your quality policy.
Quality is a watchword at NewAge. We are committed to uncompromising quality. That is the legacy we have inherited. And that is the basis for our growing reputation. Quality is embedded in our system. It permeates all our operations. We do believe that 'best quality at affordable price is the right of every customer'. We ensure this perpetually and are able to delight our customer.
Having been in this field for more than 60 years , we at NewAge know fire safety inside out and we have been constantly striving to provide the best of fire solutions to our customers. Quality is at the root of all our developments and innovations, and the entire organization including the rank and file breathes quality culture. The fact that our products conform to the respective standards and are approved by agencies like Underwriters' Laboratories, Germanischer Lloyd, Marine Equipment Derivative (MED), Conformite Europeenne (CE), Factory Mutual (FM), British Standards Institution (BSI), Indian Register of Shipping (IRS), etc. speaks volumes for our international quality.
Q. So, what are your major milestones?
Here's a rundown of our major milestones:
1962: First order from Defence Establishment of India was received
1970: Started the unit for manufacturing Fire Hoses
1970: First order for Export of Fire Equipment was bagged
1993: Started production of Type B Hose
1994: Bagged order for 'Long Range High Velocity' Foam Monitor
2002: Took over Jayshree Textiles from Aditya Birla Group of Companies
2007: Bought out the Textile Division of 'Lehavot Fire Protection, Israel'
2013: Developed UL Listed HVLR Monitors (Manual & Remote Controlled)
2015: Developed Portable Fire Pump with CE marking, Water Curtain Hose and Large Diameter Hose – to supplement Imported Products
2015: First in India to fix HVLR monitor over Fire Tender with 60 mtr. Vertical throw
2016: First Company to start Boom Tower Manufacturing in India
2016: Elevated Tower Mounted Monitor
2016: Developed Truck Mounted Turbine Operated Mist Fire Fighting System in India
2020: Signed Agreement with Ministry of Local Government & Disaster Risk Management – Mauritius for Supply of Trailer Fire Pumps & Fire Vehicles
Q. How do you foresee India as a potential market?
India as a whole is a growing market for firefighting industry. Laws for Firefighting and Safety are getting stringent day by day. The awareness of fire safety is also increasing among the general public. This makes India a very potential market for our business.
Q. How do you compare the Indian fire protection market with the global scene?
The fire protection market is extremely fragmented. It is primarily dominated by large unorganized players with strong regional presence. Currently there are only a few players in the organized sector with a pan-India presence. Moreover, the market is also flooded with counterfeit products and cheap imports from China. The silver lining is that over the last decade or so, the Indian market has seen the arrival of global giants from the fire safety industry. In the next five years, due to advancements in fire protection systems and increase in infrastructure investments, India will be dominating the global markets. Additionally, rise in commercial construction activities should also boost the growth of the market internationally.
Q. What are your strategies to improve NewAge's position at home and abroad?
Performance improvement has a bearing on Quality. We adhere to our Quality Policy at all times.
There is transparency in our actions at all levels, and the involvement of the management in day-to-day operations is total. We never dilute our customer focus. We always endeavor to improve our product quality supported by R & D, unleash all checks and controls necessary to manage our resources, keep a tab on production schedules and delivery before committed time, ensure there is no let up in service, and make best use of digital technology for all operations including Monitoring and Measurement, Analysis of Data, and taking Corrective & Preventive Measures.
Q. Are there any extraneous factors affecting your business adversely?
Manufacturers in the firefighting industry in India are highly resourceful in terms of product innovations and capability to provide unique solutions to the end customers. However, the unfortunate part is that the users seldom recognize this fact. As in many developed countries, the users must interact with the manufacturers more often to discuss the issues they face while fighting fires. Their insights will help us improve the design and performance of equipment according to the changing scenario of fire hazards. With these inputs from the users, the benefits will be manifold: The industry will grow and evolve, while the users will also get the best of products and solutions.
Unfortunately, the users' mindset today is to pay more for imported equipment rather than pay the same amount of money to an Indian manufacturer to provide a better solution. The thinking that an Indian manufacturer cannot match the quality of imported equipment needs a drastic change.
Q. What are the new trends driving the fire protection industry?
The industry is moving from conventional methods of fire fighting to more technology-based and information-based approach to fire fighting. Use of high tech Camera Systems, Robots, Thermal Imagers, Drones, etc. by the users shows a new evolving trend in the fire fighting industry. NewAge sees artificial intelligence as a next big change in technology and approach for the industry.
Q. What is your vision for NewAge?
Our vision is to acquire and maintain a global leadership position in our chosen areas of business, to continuously create new opportunities for growth in our strategic businesses, and to remain among the top 10 most admired companies to work with in the industry.