Vintex's Preponderance in FIRE PROTECTION SYSTEMS
Vintex Fire belongs to that breed of manufacturers who choose to tread the toughest path to achieve their vision which has a bearing on the safety and welfare of society. A trendsetter in its chosen field, Vintex has made history by developing a comprehensive range of fire protection products and systems to meet a plethora of critical applications. In its journey spanning over three decades , Vintex has filed past several glittering milestones. Setting up three manufacturing plants progressively, introducing a wide range of fire protection products & personal protection equipment, launching fire alarm & gas release control panel, obtaining CE certification, and receiving Maharashtra Licence for Passive Fire Protection are some of them, recounts Joseph John, Director, Vintex Fire in an interview with Industrial Safety Review. Excerpts:
Q. May we have an overview of your growth story?
We joined the league of fire industries way back in 1985. In the beginning we were trading. We forayed into manufacturing in 2006 by setting up our first production unit. Since then there has been no looking back. We started off by manufacturing components for fire extinguishers. In less than one year we were awarded the first BIS licence for manufacturing CO2 cartridge. That was in 2007. In the same year we also obtained ISI licence for manufacturing complete range of Portable and Trolley mounted fire extinguishers. In 2010 we set up our 2nd production unit in Rabale, Navi Mumbai. In 2014, we were awarded the Maharashtra Fire Service Licence. This was a significant achievement. Today we hold the MFS licence for design, supply and installation of Hydrant & Sprinkler System (GRADE-A), Fire Alarm System & Gas Flooding System.
In 2015, we tied up with DSPA.Bv (Netherland) for distribution of Condensed Aerosol Technology into the Indian market. In the same year we started producing a complete range of Firedtk Tubing Systems. In 2017 we had two more major milestones: We got CE certification for our Firedtk Tubing System. We introduced our Kitchen Suppression System also in the same year. 2019 was yet another epoch-making year for us. That was when our 3rd manufacturing unit was established also in Rabale, Navi Mumbai. Here we started in-house production of Fire Door, Panel Enclosure, Fire Extinguisher Cabinet, Hose Box and so on. And it did not take much time for us to also commence manufacture of Fire Alarm & Gas Release Control Panel conforming to CE, EN54 & EN12094. In 2019 we also moved our headquarters to 'Oriana Business Park' in Thane. In the year 2020 we had yet another achievement: Securing Maharashtra Fire Licence for Passive Fire Protection. Thus goes our journey. Today Vintex is one of the few companies in India, which have in-house Helium leakage test facilities.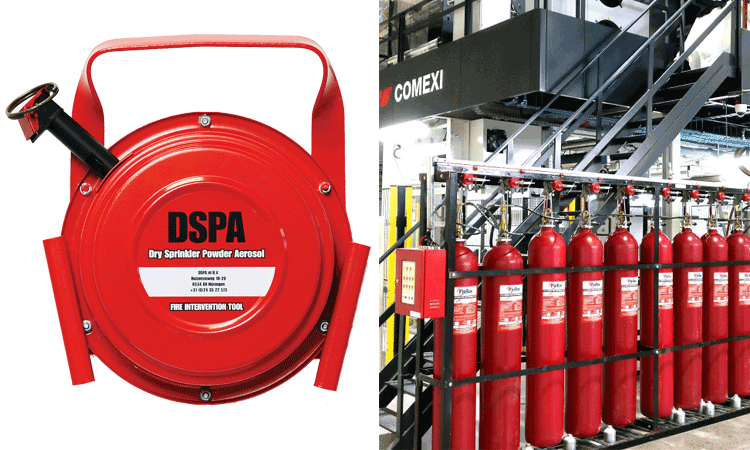 Q. What does your product spectrum look like?
Our range of offerings today includes:
We offer a Complete range of Fire Extinguisher (Portable & Trolley Mounted) with ISI/CE Mark
Stainless Steel Fire Extinguisher & Aluminium CO2 Extinguisher with ISI/CE mark
DSPA Condensed Aerosol Generator (The Netherlands)
Clean Agent Suppression System UL approved (HFC227ea/FK5-1-12/IG55/IG100)
CO2 Flooding System
Fire Alarm System
Hydrant & Sprinkler System & Component
Water Spray System High/Medium Velocity
Foam Flooding System
Mobile Foam / DCP Unit
Personal Protective Equipment
Fire Door
Cable Tray
Hose Boxes (FRP/SS/MS)
Hose Reels
Panel Enclosures
Many more…
Q. Over the years, what's the niche you have carved for yourselves?
Vintex is today a 'one-stop-shop' for the entire gamut of equipment and systems for Fire Protection and Safety, also offering unmatched service to our esteemed customers spread across the length and breadth of the country.
Q. With the addition of hydrants, and PPEs you seem to have completed the spectrum. Please comment.
Hydrants & PPE have been our focused products and they have begun to contribute to our revenue on a large scale. We have also started focusing on DSPA Condensed Aerosol Generators & Fired tk Tubing Systems which we expect to be the future that will contribute in a bigger way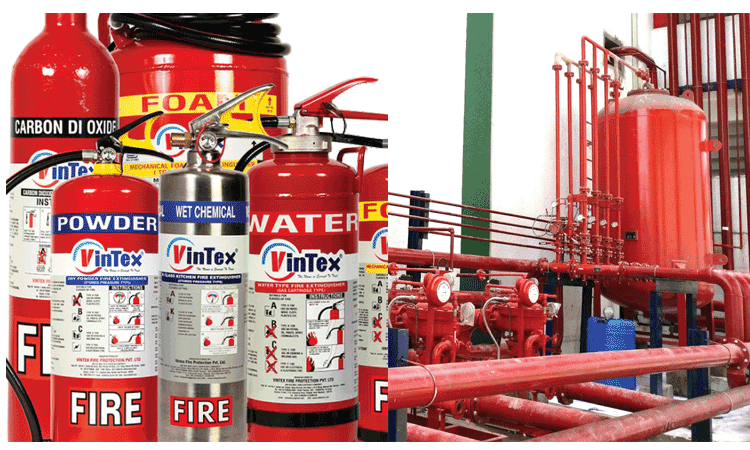 Q. Please throw some light on your manufacturing facilities.
We have three manufacturing facilities – all in Mumbai. They are well equipped with state-of-the-art production equipment. These include welding machines and fixtures, cutting machines including hacksaws, lathes, phosphating plants, powder coating plants, spray painting booths, centrifugal high pressure blowers with dust collectors, electrical ovens, grinders, compressors, rolling machine, CNC bending machines, shearing machines, hammering machines, drilling machines, vises, weighing scales, packing lines, materials handling equipment and so on. We are one of the few manufacturers in India who have in-house Helium leakage test facility.
Q. Please tell us more of your system capabilities and engineering prowess?
With over three decades of experience and commitment in the field of producing Fire Extinguishers & system integration, we are fully geared to meet any special hazard specification.
Our recommendations, capabilities and commitment continue to make a world of difference in the confidence level of our customers. By virtue of our enriched experience and exposure to a variety of applications, we are poised to provide a full range of Fire Extinguishers, hardware, design, specification, installation and support services countrywide. Thousands of companies in the country are confident of protecting their facilities and businesses with Vintex Fire Extinguishers and integrated systems.
In order to reinforce our single-source responsibility for fire suppression, control and support, we continue to invest heavily in research and development to meet the changing requirements and emerging challenges.
Q. Can you single out one customized system that you consider as the most outstanding development?
The first of its kind Multi-Zone DCP Flooding System we executed for protecting eight different production zones is by far the most innovative development. For a Zone 2 environment, the customer was looking out for a smart solution. We have engineered the said integrated system, limiting the customer investment to a single system that covers multiple zones in case of fire.
Q. Who are your major customers, and how do you educate them on the right selection and application?
NPCIL, NTPC, RCF, TATA Steel, GAIL, L&T, Airport Authority, JSW, ONGC, IOCL, BPCL, HPCL, Defence, Reliance Industries, etc. are some of our prominent customers. We conduct In-company Seminars, Webinars, Road Shows, etc. through which our customers are kept abreast of the latest trends in technology and engineering.
Q. What are your product offerings under PPE?
The personal protection equipment we offering comprises Face Mask, Face Shield, Safety Goggles, Shoes, Disposable Shoe Cover, Hazmat Suit, Fire Rated Protection Suit, Medical Caps, Disposable Gloves, Spill Kit, Road Safety Equipment, Signage, Etc.
Q. Do you also export your products?.
We export Fire Fighting products to Middle East. These products are approved by Local Defence & SGS.
Q. What's your growth strategy and how are you geared to face the challenges of tomorrow?
In today's fiercely competitive environment, one has to be lean, agile, smart and innovative. We apply this not only to sales and marketing but also to procurement, production and inventory management. Being sensitive to the market dynamics and proactive to the customer needs underpin our growth strategy.