Safety at work is important when it comes to improving productivity and efficiency. Keeping your employees engaged gives them ownership and makes them more accountable when it comes to being safe in the workplace. Thus, reliable protection becomes very critical and workers' safety is paramount. Kimberly-Clark Professional understands this need and presents products which cater to this need of personal protection.
Coveralls/ Apparel
KleenGuardTM A35 Economical Liquid and Particulate Barrier Protection Coverall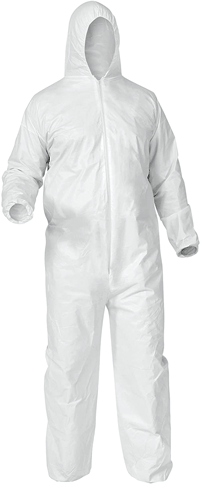 Economical liquid and particulate barrier protection
Microporous film laminate and serged seams
Designed with human-centric engineering allowing for maximum productivity and safety.
Meets ANSI/ISEA 101-1996 sizing standards.
The apparels are made with non-latex elastic.
Suitable for applications including Liquid handling, Pressure washing and Maintenance/general manufacturing.
KleenGuardTM A40 Coveralls for protection against hazardous particles and liquids
Microporous film technology to provide a liquid and particulate barrier
Designed with human-centric engineering allowing for maximum productivity and safety
Protects against Potassium Chromate (20%) and Isocyanate Paint (40%)
Serged seams
Type 5 & 6 disposable coverall
EN 1149-5 for antistatic materials
EN 1073-2 approved for radioactive dust protection
Suitable for applications including Paint spraying in Automotive and Aerospace, Chemical and Pharmaceutical industries, Manufacturing, Utilities, Electronics and Agriculture.
KLEENGUARD™ A40 REFLEX Liquid & Particle Protection Coveralls – Hooded / White
Microporous film laminated non-woven fabric provides barrier protection against solid particles, dust, and liquid splash.
Seamless front.
Protects against penetration of fluids and blood according to ASTMF1670.
Protects against Isocyanate (40%).
Human-centric pattern provides uninhibited movement and maximum productivity.
Suitable for Metal and general manufacturing, Electronics, Transportation (rails, ports, airports), Agriculture, Glass / asbestos fibers, Paint spraying areas, Waste handling.
Safety Eyewear
KleenGuardTM V90 Safety Shield Eyewear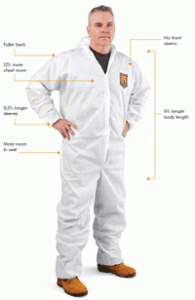 Enhanced full eye and face splash protection.
2-in-1 solution: Safety goggles with detachable face Shield.
Curved face shield conforms to shape of the face
Can be used by spectacle users too as it fits over most prescription eyeglasses.
Meets ANSI Z87.1+-2015 standards
99.9% UVA/UVB/UVC protection
Anti-Fog coating
Polycarbonate Lens & Shield, PVC Frame, Nylon Headband holder & Silicone Headband.
KleenGuardTM V80 SG34 Safety Goggles
Economical Splash protection with a soft, pliable frame for enhanced fit and comfort.
Button vents for indirect ventilation
Comfortably fits over prescription eyeglasses.
Headband buckles located towards rear of the frame to limit interference with peripheral vision.
Meets ANSI Z87.1+-2015 standards
99.9% UVA/UVB/UVC protection
Polycarbonate lens, PVC Frame and Nose Piece, Polyethylene Button and Silicone Headband

Contact for enquiries & details
North: Saurabh Jaiswal,
saurabh.jaiswal@kcc.com, +91 9920189120
Hyderabad: Venkateswararao Donga.,
venkateswararao.donga@kcc.com, +91 9912620133
Chennai: Muralidharan Dharmalingam,
muralidharan.dharmalingam@kcc.com, +91 9677781171
Bengaluru: Subhajyoti Parida,
subhajyoti.parida@kcc.com, +91 9004407335
East: Abhishek Kundu,
abhishek.kundu@kcc.com, +91 6290673609
Gujarat: Milan Pathak,
milan.pathak@kcc.com, +91 9599507556
Maharashtra: Praveen Kumar Sahu,
praveen.kumarsahu@kcc.com,
+91 7304348048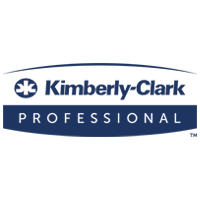 For more information
www.kcprofessional.co.in