Hikvision AX-HUB Wireless Intrusion Alarm Panel
A Complete Security Solution for Residential and SME Applications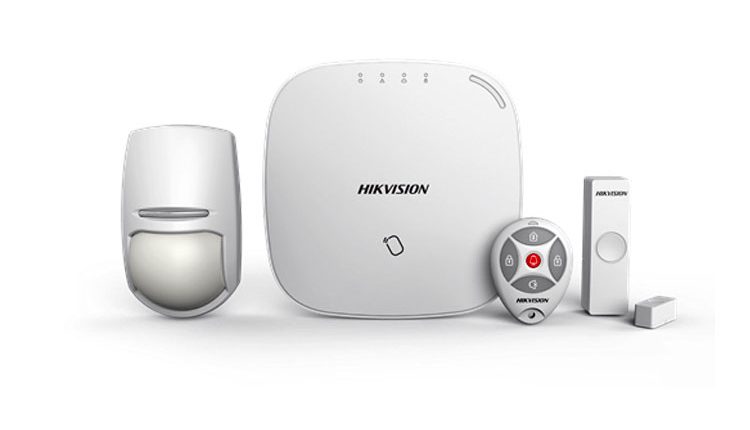 Hikvision's AX-HUB is an innovative product in intruder alarm systems segment, which ensures complete security for your home, retail outlets, warehouses, commercial offices and many more. It can be integrated to centralized surveillance and remote monitoring solutions as well. These devices are designed for catering residential and small commercial applications, the AX-HUB connects security peripherals such as motion detectors, magnetic contacts, and displacement sensors, alongside safety devices like smoke and gas sensors to keep people and your premises safe.
Hikvision cameras and the AX- HUB alarm systems work seamlessly together to provide a recorded video clip or live HD video footage, directly through Hik-Connect, iVMS or instantly to monitoring stations. This allows active decisions to be made faster and more reliably in the event of an activation.
Simple to install and use, the AX- HUB provides voice prompts locally to assist during installation, as well as alert the end user to any events. The AX- HUB is also compatible with the smart device app, in addition to a wide range of communication pathways and multiport IP communications via either the Cloud or CMS for added peace of mind.
AX – HUB can be integrated with Wireless Smoke Detectors to provide sophisticated and cost effective fire protection solution.
This Cloud connectivity allows full control of the system from anywhere via Hik-Connect, to easily and remotely arm, disarm and monitor the system. The Cloud also enables the use of revolutionary IVaaS (Intruder Verification as a Service), which allows end users and monitoring stations to quickly and efficiently confirm system events through HD video verification.
AX-HUB INTRUSION ALARM KIT DS-PWA32-KG:-
USP's of AX-HUB: – Wireless Intrusion Panel with CCTV integration + Mobile App
Voice guiding for ease of Operations
Ease of Programming Via Web / APP
Two-way wireless Communication
32 wireless inputs, 8 keyfobs, 2 wireless sirens
In-built GPRS + SMS + Voice Dialing facility
Inbuilt LAN and WiFi modules
Supports 2nos of Hikvision IP Cameras for Video verification
Supports viewing events Video Via Mobile APP
Transmission distance 800m in open area
128-bit data encryption
In-built Battery Back-up upto 12Hrs
Mobile APP
3rd Party CMS software compatibility
AX-HUB DS-PWA32-KG Package provides built-in of IoT modules:-
AX-HUB with in-built GPRS Module, WiFi & LAN Modules
Wireless Pet Immune Motion Sensor.
Wireless Magnetic Contact
Key fob -a small security device with built-in authentication used to control and secure access to network services and data.
HikConnect Mobile App + SMS + Auto Dialing Voice Call
Supports Web Browser for integrating Hikvision IP Cameras with AX-HUB. IP Cameras to be purchased separately.
Solution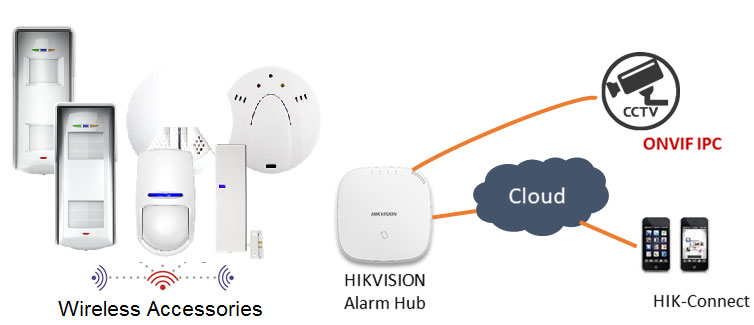 AX-HUB: – Benefits
WEB CONFIGURATION
The AX-HUB has a built-in web server which enables the device to be configured through a web browser over the local IP network. This offers more flexibility and time saving on site, as setup can be done quickly and efficiently using a laptop or compatible smart device.
EASY SETUP AND INSTALLATION
Setting up the system could not be simpler, with an intuitive and easy to use interface. Connect to the panel directly via our web-browser or with iVMS on a laptop for on-site setup or, alternatively, program the system using the Hik-Connect app. Learning devices and sensors onto the system is also easy using the one-push-to-learn feature on all Hikvision wireless intrusion devices, to save time and money.
MULTIPLE COMMUNICATION PATHS
The variety of communication pathways available with the AX-HUB is unmatched. It offers LAN, Wi-Fi & GPRS connections with on-board communication modules and connectors for a simpler and more cost-effective installation. With multiport IP communications, the AX-HUB can also communicate simultaneously with multiple devices, to ensure alarm messages are sent to all that need them. The AX-HUB can also notify up to 6 phone numbers in the event of an alarm through voice calls, offering greater flexibility in the way that end users are notified about events on the system.
ARC LINKAGE
If ARC connectivity is required, the AX-HUB can communicate alarms and other messages in Contact ID format for a rapid and efficient response.
TWO-WAY WIRELESS DEVICES
With the AX-HUB, you can add up to 32 two-way wireless devices. This provides a system which is secure and flexible; allowing even larger premises to be secured with a wide range of indoor and outdoor Hikvision peripherals.
HIK-CONNECT
The end-user app, Hik-Connect, brings together an intrusion alarm and video functions like never before. Linking detectors and sensors to cameras for video verification, as well as providing the end user with the ability to monitor the system from anywhere in the world; remotely checking system status, receiving alerts, arming, disarming, HD video monitoring and more, to remain informed and in complete control at all times.
IVAAS (INTRUDER VERIFICATION AS A SERVICE)
This revolutionary service provides video verification (from any Hikvision or ONVIF IP camera on the premises) for users to quickly and efficiently confirm an alarm event on the system.
 During the configuration of the panel, 2 cameras can be linked to the AX-HUB, which incorporates a rolling video buffer. Where other video verification methods rely on sending low-quality static images to confirm events, IVaaS utilises Cloud technology alongside the buffer to link previously separate video and intruder systems to one platform. This provides a 7 second clip in the event of an alarm; 5 seconds pre-alarm and 2 seconds post-alarm.
HIK-CONNECT ADVANTAGES
Simple arming and disarming with user friendly interface
Quickly view events and video recordings
Easily configure the system from the app
See wireless devices in each partition
View cameras and alarms in one app
Simplifying the experience for the end user, you can view and manage both your camera and alarm systems from one app in one screen. Check the status of wireless devices in each partition quickly and simply whilst being able to make changes to settings, bypass zones and more from inside the app.
Set up system options and make changes in programming within Hik-Connect App, it helps to make configuration simple and easy to follow. The simple interface of the Hik-Connect app allows easy arming and disarming of the system. Simply select stay, away, or disarm and get an instant visual indication of the system status. To take quick action on events, view alarms, faults and video recordings in one place. If using video verification, the video clip will be sent direct to your device, further reducing decision time when it matters most.