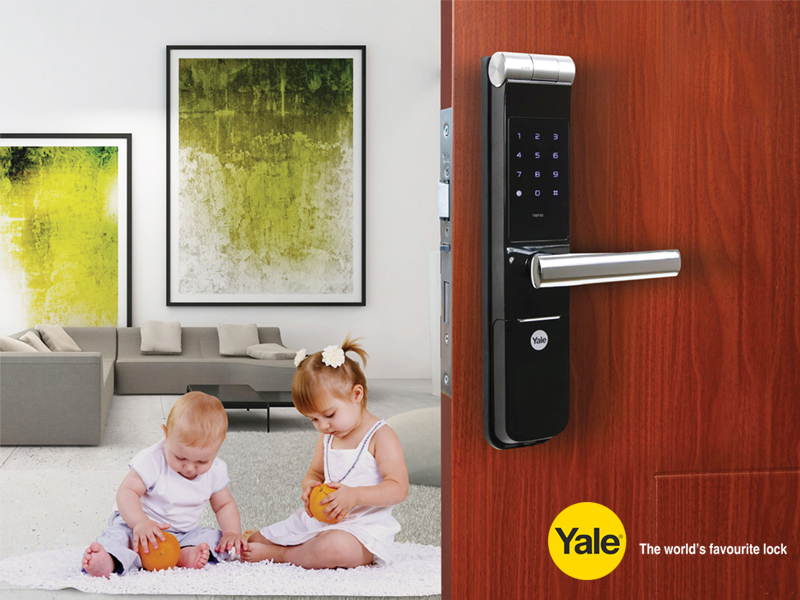 For those concerned about safety, the best option is to purchase high-security door lock systems, such as the fingerprint / keypad door lock. An automatic door lock system for home will allow you unrestricted access, without having to worry about misplaced or stolen keys. Fingerprint / Keypad door locks have numerous advantages over other kinds of door locks, and if you are planning to purchase one, then it is desirable to evaluate all aspects to remain best informed. To provide a brief overview, this automatic door lock functions smoothly and can be manipulated with ease as it consists of various innovative features. Here are some advantages of fingerprint / keypad door locks:
Keyless Door Lock
One of the greatest advantages of a fingerprint keypad door lock is that keys are no longer required for operation. There is no hassle of losing or misplacing keys, which makes it easier for most homeowners.
Difficult to Override
Unlike other door locks, a fingerprint keypad door lock cannot be overridden by anyone, except for the approved individual's fingerprint. Conventional door locks can be quite easy to open, especially for burglars. The fingerprint lock will provide utmost security in areas prone to robbery, as it has a foolproof defense mechanism against intrusion.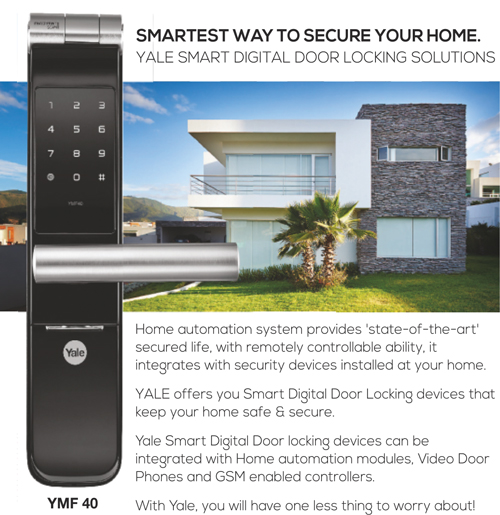 Cost-Effective In The Long Run
Although it can prove to be quite expensive in terms of initial investment, this digital door lock is extremely effective in the long run. The best fingerprint door locks have sturdy, weather-resistant external units, and the best ones have salient features such as alarm system and remote access.
User-Friendly Interface
The door lock system does not resort to a complicated mechanism for everyday usage. The interface is clean, easy to navigate, and user-friendly. This makes it easy to use for people of all ages.
Although this type of door lock is definitely advantageous, one should make in-depth inquiries about the product quality before making the purchase. After all, it is a matter of personal safety. Choosing a reliable and high-quality, fingerprint keypad door lock will be optimum for you and your loved ones.
10 SMART LOCK FEATURES TO CONSIDER BEFORE BUYING
A smart lock is an electronic and mechanical locking device that opens wirelessly with an authorized user's authentication. Smart locks provide access to homeowners without a traditional key and use smartphones or other methods to wirelessly verify and automatically unlock doors.
Nowadays, a smart fingerprint lock can be easily used to gain entry into your home without the hassle of fumbling for keys with arms full of grocery. While mortise locks provide utmost security and convenience, a push pull lock combines various forms of access for you to pick and choose from. Choosing from a plethora of smart locks can be a cumbersome task, so it is ideal to be well versed with the nuances and the must-have features of a smart lock.
Types of Smart Locks
Smart locks can be divided into two distinct categories — those that totally replace your current in-door bolt lock, and retrofit locks that are installed upon the thumb-turn cylinder, leaving the existing key lock untouched. While replacement smart locks provide varied entry options, retrofit smart locks offer simpler installation and usage solutions. In order to be considered a good smart lock, it should offer certain basic features.
To help you arrive at an informed decision regarding the best smart lock for your home, here are 10 features you must consider before buying:
1.Battery
Most smart locks nowadays operate either on multiple AA alkaline batteries or rechargeable lithium-ion cell ones. In both cases, an alert on your app will pop up when your battery gets low, and often, the indoor housing unit will include an LED that will flash red when batteries need to be replaced. Battery life is also rated by some companies in terms of the number of physical locks and unlocks (cycles), and power lasts anywhere from three months to a year, depending upon lock type and function.
2.Automatic Lock/Unlock
Most Bluetooth-enabled locks provide keyless/code-less entry. Smart locks, especially retro locks, allow you to auto-unlock your door when you have your smartphone in person and you are within a user-prescribed distance (30 feet). Smart locks with keypads usually do not include proximity auto-unlock features for security reasons.
3. Alternative Entry Options
Often-unpredictable Bluetooth or Wi-Fi options cannot always be reliable. Apart from wireless unlocking techniques, more realistically-designed smart locks offer alternative entry options, such as PIN codes or physical keys. A limited number of smart lock brands give you a key fob to wirelessly unlock doors when you do not have your smartphone with you.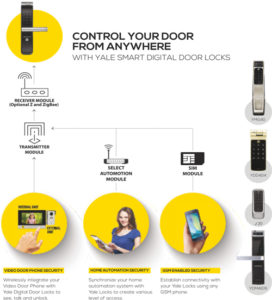 4. Weatherproof Rating
Complete replacement smart locks indicate their temperature-withstanding levels, along with an IP water/dust-proof rating. All locks can not resist adverse weather conditions over the years, thus it is ideal to buy from manufacturers who use sturdy material with a solid weatherproof rating.
5. Guest Keys
Retrofit models allow you to assign 'keys' to visitors you approve of – friends, family members etc. You text or email a code via the smart lock app that grants your visitors the ability to enter for a stipulated amount and number of times. Replacement smart locks with keypads allow you to simply assign temporary PIN codes for single use, or a specific amount of time.
6. Lock Quality Rating
Not all physical door locks are the same. Choose amid three lock quality designations – Grade 1: the strongest, reserved for commercial uses, Grade 2: the most common residential locks, and Grade 3: a secondary lock to supplement a Grade 1 or 2 lock. Most high-quality approved locks are Grade 2.
7. Wireless Security
With the rise of network security hackers, looking into foolproof wireless security is a must. A little research on deployed security methods can help you finalize your purchase. Devices that can be considered the most 'hack-proof' are ones that are keypad-enabled, with no reliance on Bluetooth or Wi-Fi.
8. Smart Home Compatibility
Most smart locks have an easy integration process for existing smart home environments, such as Amazon Alexa, Google Home, Z-Wave, Samsung SmartThings and the like. Locking routines can be seamlessly integrated along with lights, temperature control etc. Keep in mind that this is not a necessity, but an added advantage.
9. Voice Control
Again, an increasing number of locks with smart device compatibility provide Alexa, Google, or Siri voice control, usually for locking doors when you are inside. Recently, Amazon has approved an 'unlock voice control protocol' that requires the user to provide a spoken PIN code after an unlock voice command.
10. Sleek Design And Finish
Reliable lock vendors, such as Yale, offer a wide range of hardware finishes and trims, including variations of silver, bronze, brass, and black, with matching latch mechanisms. New and upcoming smart lock vendors offer fewer aesthetic options.
With so many high-tech features and assured security, as per your convenience transform your world – modernise your security system with Yale Digital Door Locks & Digital Safes.
For more information,
Website: www.yale.co.in