ZALUX, a leader in industrial lighting solutions, has announced the release of its new OREX high bay luminaires ATEX and IECEX certified for hazardous areas. Available in models for Ex Zone 1 (OREX 1) and Ex Zone 2 (OREX 2) and ideal for oil & gas or petrochemical applications, the luminaires give the right light quality and intensity needed for the highest of hazardous applications, while providing exceptional energy efficiency and robustness.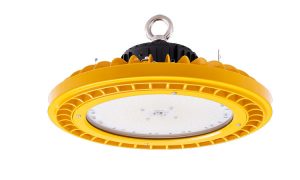 David Franch, Director of sales, marketing, and product management at ZALUX, said, "OREX is the latest addition to our hazardous lighting ranges. It has been designed to withstand harsh industrial environments, provide exceptional lighting quality, and, using latest LED technology, optimize energy consumption. Made in Europe and based on 40 years of luminaire design experience, customers can be assured of excellent quality, reliability, performance and safety."
OREX luminaires are available with DALI control and provide luminous flux up to 40,500 lm at a remarkable efficiency of up to 150 lm/W. Constructed from high quality mechanical components, the units are suitable for installation outdoors and, with features including a huge temperature range from -32 ºC to 75 ºC (to meet Middle East hot temperature requirements), are designed to withstand the rigours of heavy industrial environments. Housings are made in copper-free aluminium for use in hazardous areas and a tempered glass diffuser make them resistant to weather and harsh industry conditions.
The design of the OREX luminaires ensures easy installation. Both models are available with different installation accessories for pipe/tube or rotatable wall mounting and can be purchased preprepared for installation with a cable gland and cable (length from 0.25m to 3m) already connected, especially designed to be mounted on high poles with a junction box at the bottom of the pole. Additionally, OREX 2 can be attached directly to a connection box for ultimate installation flexibility. The units have a wide input voltage range from 90 to 250 VAC for OREX 1, and 90 to 305 VAC for OREX 2, to meet installation requirements across different regions and industries. The luminaires can further be equipped with a reflector which provides a low UGR ratio.
Franch continued, "The OREX luminaires are both tough and flexible. They have a IK10 impact rating, making them resistant to damage during installation and operation, and are available with multiple mounting options to ensure installation is quick and easy. If a customer requires specific mounting options, we can also create these."
ZALUX has over 40 years of experience in making robust, weatherproof lighting for heavy industrial applications. The OREX range extends its portfolio in hazardous lighting solutions ATEX and IECEX certified, and its range of luminaires to serve the needs of the oil & gas industry.