Electrical hazards can be averted if safety requirements are asserted: Raychem RPG
Raychem RPG, incorporated in 1989, is a 50:50 joint venture between RPG Enterprises, India and TE Connectivity, USA. The company is a leading enabler of technology solutions for asset and personal protection and loss reduction in the energy, oil and gas segments. In the energy segment, Raychem RPG's technologies improve the performance, reliability and economy of electrical networks and equipment. Raychem RPG's power and distribution transformers have consistently performed for over 10 years in harsh environments. The company provides top-quality solutions in preventing, monitoring and controlling corrosion for pipelines in the hydrocarbon industry and water sector. Raychem RPG has been successfully exporting precision engineering components to customers worldwide. With off-shore projects extending to ASEAN, Middle-East and African countries, the Americas, Germany, China, the company continues to make its presence felt across the globe.
Electrical safety in today's world
Industrial growth significantly contributes to developing the electrical safety personal protective equipment market. Industrialization is the process of transformation of any economy from agricultural to manufacturing of goods by developing industries. The growth in various sectors increases the electricity demand and promotes electrical safety and personal protective equipment to protect workers from electrical hazards. In many countries, organizations such as the Occupational Safety and Health Administration (OSHA) and the International Electrotechnical Commission (IEC) set standards for electrical safety in the workplace. These standards guide assessing and mitigating electrical hazards, including worker training requirements and safe work practices. This includes regular inspections and maintenance of electrical equipment, proper training for workers, and a culture of safety that encourages employees to report any electrical hazards.
With plants becoming more automated, how do we stay ahead of emerging technology and related safety concerns that may arise due to their implementation?
The need of the hour for organizations is to have a robust electrical safety program that includes regular inspections and maintenance of electrical equipment, proper training for workers, and a culture of safety.
PPE – An essential in the industry that saves the workforce
The safety of a workforce is foremost in all workplaces, especially the safety of workers exposed to electrical hazards that can cause harm. Electrical hazards are a substantial risk in many sectors, and PPE (Personal Protective Equipment) is one of the most critical ways to prevent electrical accidents. Electrical safety PPE includes Insulating Gloves, Boots, Helmets, and Protective clothing. These items are designed to protect workers from electrical shock, arc flash, and other electrical hazards. PPE is a critical component of any electrical safety program and is necessary to protect workers who work with or around electrical equipment. It's essential to remember that PPE is just one part of an overall electrical safety program. Employers should also prioritize regular maintenance of electrical equipment, proper training of workers, and a culture of safety in the workplace.
Electrical Safety Product Range offered by Raychem RPG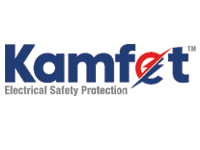 Raychem RPG is a leading provider of electrical safety solutions and products. They offer various electrical safety products for multiple industries and applications.
Raychem RPG boasts of a state-of-the-art, world-class automated manufacturing facility located in Vasai, Maharashtra, India. Its facility features cutting-edge technology and equipment to ensure its manufacturing processes' highest precision and quality control levels. The company has invested significantly in its manufacturing capabilities to meet customers' evolving needs while maintaining the highest levels of safety and efficiency. Its facility is staffed by highly trained and experienced professionals who are dedicated to ensuring that Raychem RPG products are of the highest quality and meet or exceed all industry standards. With its commitment to continuous improvement and innovation, the company is able to deliver the most advanced and reliable products to its customers around the world.
Some of the electrical safety product ranges provided by Raychem RPG are:
1. Electrical Insulating gloves:
Raychem RPG offers a range of insulating gloves designed to protect workers from electrical shock while working on or near live electrical equipment. These gloves are made of high-quality materials and are tested to ensure compliance with international safety standards – EN60903: 2009, IEC60903: 2014, ASTM F2675, IEC61482.
Offers three variant against various electrical hazard:
Electrical insulating gloves (Offer Electrical Protection Up to 36 kV – Class 00 to Class 4)
Electrical insulating gloves + ARC Flash Protection (Offer Electrical Protection Up to 36 kV – Class 00 to Class 4 Along with ARC Flash Protection up to 40 Cal/Cm2)
Composite Electrical insulating gloves + ARC Flash Protection + Mechanical protection (Offer Electrical Protection Up to 36 kV – Class 00 to Class 4 Along with ARC Flash Protection up to 55 Cal/Cm2)
The gloves are designed to provide excellent insulation properties , Arc flash protection and mechanical strength to protect the workers from electrical hazards. They are tested to ensure their dielectric strength and electrical insulation properties meet the required standards.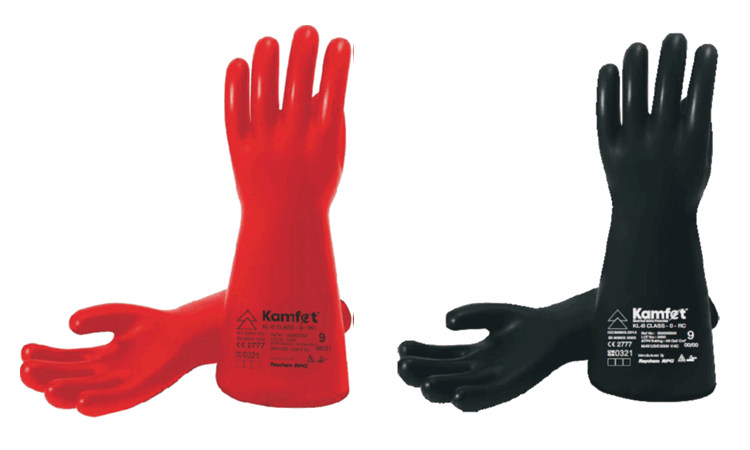 2. Electrical Insulating Matting:
Raychem RPG offers insulating matting that complies with the IEC 61111 standard. This standard defines the requirements and testing procedures for insulating matting used for electrical safety in low-to-high Voltage installations.
Raychem RPG insulating matting provides a safe working surface for workers who need to stand on or work near live electrical equipment. The matting is made of high-quality rubber materials and is tested to ensure compliance with the IEC 61111 standard.
The matting is available in various classes, including Class 0, Class 1, Class 2, Class 3, and Class 4, to suit different voltage levels up to 36 kV working voltage. Each class indicates the maximum voltage level that the matting can withstand. The matting is designed to provide excellent electrical insulation and mechanical strength, protecting workers from electrical hazards. It also offers slip-resistant properties to prevent accidents caused by slips and falls. It also offers various colors and customizations,including Bi-ColorMatting, also offers insulating matting with Arc Flash boundaries as per the customer's requirement.
Raychem RPG follows a rigorous testing process to ensure that every meter of rubber matting meets the standards set forth by the IEC61111. This commitment to quality goes above and beyond the industry standard, demonstrating our dedication to providing superior products and services to our customers. By adhering to these strict testing protocols, we can ensure that our rubber matting is safe and reliable and meets the highest electrical insulation and protection standards.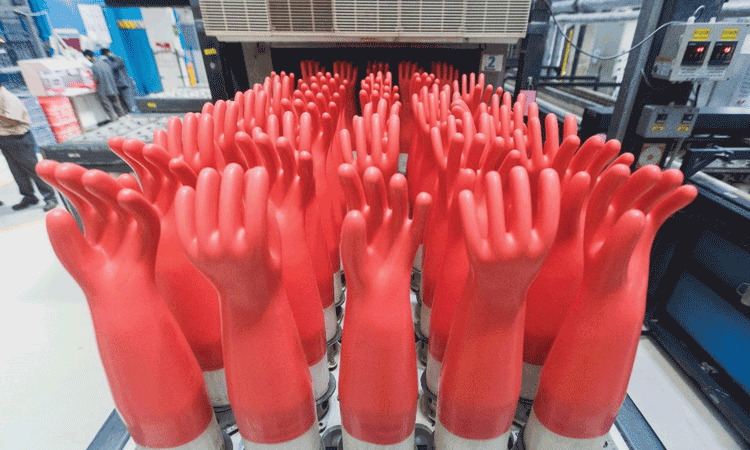 3.Arc Flash Protection Equipment
Raychem RPG offers a wide range of Arc flash protection products which includes Arc Flash Suits, Hoods, Hand Gloves, and Face Shields. These products are designed to protect workers from the hazards of ARC Flash from 8 Cal /cm2 to 40 Cal/cm2.
There are many upcoming products and innovations in the pipeline as Raychem RPG is constantly working towards bringing the best in the industry, like the launch of Voltage detectors, Rescue and Grounding equipment, Loto products, insulated tools and many more.
Raychem RPG advances with technology.
Raychem RPG offers QR codes on their electrical gloves that allow users to access electrical test reports. Each glove is assigned a unique QR code printed on the glove's label. When the QR code is scanned using a smartphone or other mobile device, it provides access to the electrical test report for that particular glove. Further, the electrical test report contains information on the glove's electrical properties, such as insulation resistance, breakdown voltage, and leakage current. This information is essential to ensure the glove is safe and protected against electrical hazards.
By providing easy access to the electrical test report through the QR code, Raychem RPG helps ensure that workers use gloves that have been tested and meet the required safety standards. It also helps improve efficiency by allowing workers to quickly access the necessary information without searching through paper records or other documentation.
"Electrical safety is a full-time job, and we at Raychem RPG take our job very seriously."
As the product manager of our electrical safety segment, I recognize the importance of staying ahead of the curve by innovating and developing new products to meet the evolving needs of our customers. At Raychem RPG, we offer a comprehensive range of electrical safety products and solutions that are designed to provide maximum protection to workers against electrical hazards. Our products have been specifically engineered to meet the unique needs of various industries and applications and are backed by extensive research and development to ensure their safety and effectiveness.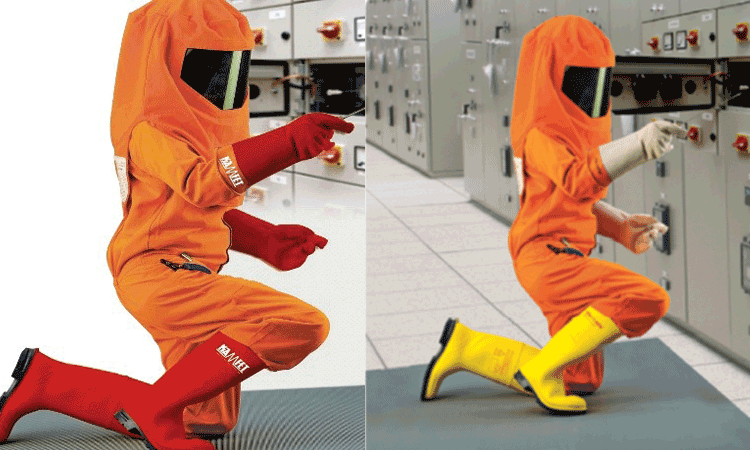 Our commitment to safety is evident in everything we do, from the selection of the highest-quality materials to the rigorous testing and quality control processes that we employ. We take pride in our ability to deliver cutting-edge solutions that help to create a safer working environment, and our team of experts is constantly striving to identify new ways to improve our products and services.
At Raychem RPG, we believe that safety should never be compromised, and we are dedicated to providing our customers with the most advanced and reliable electrical safety products and solutions available in the market today.
About Bhavin Kothari,
A Visionary Product Manager Driving Innovation in Electrical Safety Solutions
Bhavin Kothari is a highly experienced Product Manager at Raychem RPG, a leading provider of electrical safety products and solutions. With over 25 years of experience in leadership positions across multiple fields, including sales, marketing, and development, Bhavin is a seasoned professional with a deep passion for innovating cutting-edge electrical safety products and solutions.
Throughout his career, Bhavin has demonstrated a strong commitment to excellence, continuously driving innovation and pushing the boundaries of what is possible. He has a proven track record of success in developing and launching new products that have been widely adopted and acclaimed by customers across various industries.
Bhavin's strategic mindset and customer-centric approach enable him to identify emerging trends and develop solutions that meet the unique needs of customers. His ability to collaborate effectively with cross-functional teams, from engineering to marketing, ensures that our products are not only innovative but also aligned with the broader objectives of the organization.
As a subject matter expert in electrical safety, Bhavin has leveraged his extensive knowledge and experience to develop and implement a range of physical awareness programs at customer premises. Through these programs, Bhavin has helped enhance customer knowledge and understanding of electrical safety, ensuring they have the appropriate personal protective equipment to safeguard their employees' lives.
Bhavin Kothari is a champion of electrical safety awareness, both within the organization and across the Indian industry as a whole. In the early years of his career, electrical safety was not widely understood or accepted in India. Bhavin played a critical role in changing this by spearheading over 800 awareness programs and initiatives designed to educate people about the importance of electrical safety.
As a seasoned Electrical Engineer, Bhavin brings a wealth of technical expertise and knowledge to his role as a Product Manager. He leverages his industry experience and technical expertise to develop innovative and value-driven solutions for customers. Bhavin's customer-centric approach and focus on innovation have earned him a reputation as a thought leader in the electrical industry.
Bhavin's passion for innovation and commitment to delivering value to customers have been instrumental in driving our success. We look forward to continuing to work with him to develop and deliver world-class electrical safety products and solutions.